'WWE 2K17': How to get Nikki Bella, AJ Styles and Alexa Bliss' Elimination Chamber attires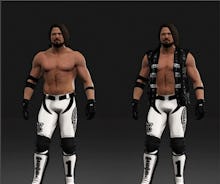 Elimination Chamber was one of the stronger pay-per-view events from the WWE over the past year. It followed a memorable Royal Rumble pay-per-view to keep the WWE's momentum rolling. And with every pay-per-view comes a sweet collection and display of new ring attires from top WWE Superstars.
As those new attires are revealed in real life, the masterful content creators in WWE 2K17's creation community go to work duplicating the threads for others to download. Elimination Chamber was no exception.
We've tracked down spot-on recreations of Nikki Bella, AJ Styles and Alexa Bliss available for download. Read on for a look at all of them.
WWE 2K17: Where to find new Elimination Chamber attires
Nikki rocked the "totally fearless" look in her match against Natalya. This was a surprisingly good scrap between two WWE veterans, and it certainly kept their feud compelling. 
This attire was created by Playstation Network account Colton 316:
AJ Styles wasn't victorious in his Elimination Chamber match against John Cena, Baron Corbin, the Miz, Dean Ambrose and new WWE champion Bray Wyatt, but he was at least stylish in his defeat. 
PSN user Orion1984 gave us this AJ Styles attire:
PSN user RealDougDoug created this attire for Alexa Bliss:
You can also see all of the new attires in the video below from YouTube user Macho T: 
If you search for creations by the PSN ID, you should be able to find them for download. If that doesn't work, look at the latest versions of each Superstar on Community Creations and try to find the ones created by the accounts mentioned in this article.
More sports gaming news and updates
Are you a sports gamer? Check out more content from Mic, including news on EA Sports' 2017 plans for titles like NBA Live 18 and EA Sports UFC 3. There's also details on RBI Baseball 17, and the latest patch notes on WWE 2K17's 1.06 update.