Enrique Marquez Jr. pleads guilty to aiding San Bernardino shooters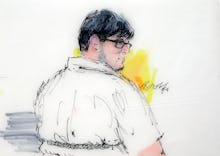 Enrique Marquez Jr., the man who purchased two of the firearms used to massacre 14 people and wound 22 others in the Dec. 2, 2015 attacks in San Bernardino, California, pleaded guilty to material support for terrorism charges on Tuesday.
According to the LA Times, Marquez was a friend of gunman Syed Rizwan Farook, who along with his spouse Tashfeen Malik carried out the assault on Inland Regional Center. Marquez said he was only involved in two prior aborted efforts to launch attacks on "the 91 Freeway in Corona and at Riverside City College in 2011 and 2012," but subsequently moved to limit his contact with Farook in 2012.
Farook and Malik pledged allegiance to Islamic State, the notorious terror organization which took over large stretches of Iraq and Syria and has been implicated in tens of thousands of deaths worldwide. 
Marquez admitted he was a "straw buyer" for two assault rifles used in the attack, according to CBS News.
"With this plea, Enrique Marquez Jr. will be held accountable for his role in plotting terrorist attacks on American soil with Syed Rizwan Farook in 2011 and 2012, attacks which were, fortunately, not carried out," acting assistant attorney general McCord said in a statement. "Marquez also admitted to making a false statement as part of his straw purchases of weapons for Farook – weapons that were eventually used to carry out the deadly terrorist attack in San Bernardino."
According to the LA Times, during the course of the investigation authorities discovered two relatives arranged a sham marriage between Marquez and Maria Chernykh, Farook's sister.
Raheel Farook, Chernykh and her sister Tatiana Farook all pleaded guilty to immigration fraud earlier this year.