Report: US officials allege Trump campaign was in contact with Russian spies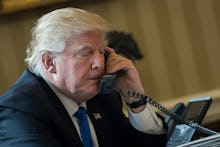 Four current and former U.S. officials have told the New York Times that intelligence and law enforcement agencies confirmed members of President Donald Trump's campaign were in contact with Russian spies in the year before the Nov. 8, 2016 presidential elections.
The Times' sources said they had not seen any material directly demonstrating Trump's campaign colluded with Russia. But officials discovered the links while probing the circumstances behind what they believe was an operation directed personally by Russian President Vladimir Putin, according to the Times. Hackers broke into the Democratic National Committee's email system during the race and leaked embarrassing information as part of the operation, the Times said.
The hacks occurred as then-candidate Trump was striking a friendly tone on U.S.-Russia relations during the campaign. But earlier this week, Trump's national security adviser Michael Flynn abruptly resigned after it was revealed he discussed a change in sanctions policy with Russian Ambassador Sergey Kislyak before Trump's inauguration — a possibly illegal move.
According to the Times, one person involved in the calls was Paul Manafort, the quasi-legendary political consultant to dictators who ran Trump's campaign before being replaced by chief strategist Steve Bannon and current adviser Kellyanne Conway. Officials "would not disclose many details," the Times reported, such as what was discussed during the calls, which Russian intelligence officials were involved and how many Trump staff were on the other end.
The Times account noted the intercepted calls were not limited to those between Russian spies and Trump staffers and extended to other Trump contacts and other Russian officials.
Some sensational stories about alleged links between Trump and Russia have been floated in the past year, including a dossier assembled by a former British spy alleging Russian intelligence had gathered "kompromat" — blackmail materials — on the real estate mogul. However, hard evidence has yet to materialize.
Trump's camp has already issued blanket denials of the allegations.
Michael Cohen, a Trump confidante and lawyer who worked for the reality star's business empire, said in a phone interview the article was a "smear" against Trump's "unprecedented victory." He added there hadn't been Russia contact but, if there had been, "So what?"
Manafort told the Times, "This is absurd. I have no idea what this is referring to ... It's not like these people wear badges that say, 'I'm a Russian intelligence officer.'"
Michael Caputo, a former Trump campaign adviser close to Manafort, said via text message the Times story was baseless.
"This story is total bullshit," he said. "... These sources are lying, and the Times is printing fake news."
"They're just Obama [intelligence community] holdovers following a scripted plan to discredit the president and stop the White House from exposing their gross negligence and undoing their terrible mistakes," Caputo concluded. "And they're liars."
Celeste Katz contributed additional reporting to this article.
Feb. 15, 2017, 12:37 a.m.: This article has been updated.