New public advocacy group Feed the Truth will blow the whistle on shady nutrition science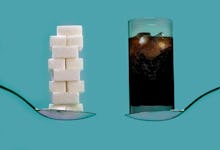 Drinking a glass of wine is just as healthy as going to the gym. Cheese is as addictive as crack. Fat, not sugar, is to blame for America's obesity problem. 
This is the kind of prevalent misinformation that Daniel Lubetzky, founder and CEO of KIND snacks, hopes to diminish with a new organization called Feed the Truth, launched Wednesday. 
Lubetzky has pledged $25 million to fund the public health advocacy group in order "to offset self-serving industry agendas at the expense of public good," a press release stated.
"It's a very serious issue," Lubetzky said of fake news and gone-viral inaccuracies. "We have a hard time rationalizing something that is not consistent with what we want to believe," he explained in an interview. When it comes to food in particular, Lubetzky said people are eager to be prescribed a silver bullet. But, he said, "simplifying is very dangerous." 
The word "dangerous" here is hardly hyperbolic. 
Case in point: In the 1960s, what is today known as the Sugar Association paid Harvard researchers to minimize the effect of sugar on human health in its reporting and instead emphasize the negative impact of fat. This serious conflict of interest wasn't uncovered until a study was published in JAMA Internal Medicine in the fall of 2016 — five decades after the shady deal was made. The revelation is more than disappointment in a sour deal: The findings ostensibly dictated much of nutrition science and, consequentially, consumer behavior — like the prolific low-fat fad diet of the 1990s — for the past 50 years. 
"When that [news was revealed], it hurt a raw nerve in me because for years I've been thinking we need to do something to level the playing field for public advocates," Lubetzky said, noting his wife, a kidney doctor, has made him acutely aware of the influx of diabetes and obesity in the U.S, which has been linked to excess sugar consumption. "The fact that [the sugar industry at the time] literally caused harm to society because it wanted to sell more sugar — it's really upsetting when people think in such narrow-minded terms." 
As for Feed the Truth, though, he's funding it and is responsible for its genesis, Lubetzky said he'll remove himself entirely from the group, allowing it to exist independently. Since he's taking the backseat — or perhaps a seat in an entirely different car —  Lubetzky has appointed a group of three public health experts who have agreed to work together, unpaid, to nominate Feed the Truth's board of directors. Of the three is well-known and always-happy-to-call-bullshit-on-food-science Marion Nestle, a New York University professor who wrote in her book What to Eat that the real reason health claims exist is they "sell food products."
By relinquishing the keys to the Feed the Truth kingdom, Lubetzky puts his company, which primarily sells nut- and fruit-made snack bars, at risk of scrutiny. "I think it's worth acknowledging that [KIND doesn't] have any secrets. We don't have to play with the scales of justice," the CEO said. "It is very important to not interfere because if this organization finds out that, let's say almonds are not good for you, it should do what it needs to do to highlight that. We hope that it'll hold us accountable for everything."