Trump loyalists deny reported charges of campaign contacts with Russian spies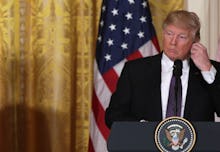 Diehard Trump loyalists are passionately dismissing a Tuesday New York Times story reporting that members of the president's campaign were in touch with Russian intelligence agents in the year before the election.
"I think it's a smear against his unprecedented victory," the president's personal attorney, Michael Cohen, said in a phone interview.
"They're trying to create a narrative that's designed to malign the president and create this nexus between Trump and [Russian President Vladimir] Putin — one that doesn't exist," he added.
The New York Times report said the contacts with the Russians were unearthed as part of an investigation into an operation — supposedly conducted at Putin's personal direction — to disrupt the U.S. presidential election. Details of the calls, including whether they were related to Trump, were not disclosed.
Cohen, previously special counsel to Trump at his private company, said he knew of no contacts between Trump campaign officials and Russians, but demanded, "Even if there was one, so what?"
The New York Times singled out Paul Manafort, who oversaw Trump's dark-horse campaign until his replacement by now-top White House advisers Steve Bannon and Kellyanne Conway.
Manafort told the paper the allegations were "absurd."
"I have never knowingly spoken to Russian intelligence officers, and I have never been involved with anything to do with the Russian government or the Putin administration or any other issues under investigation today," he said.
Contacted late Tuesday night, Michael Caputo, a former Trump campaign adviser close to Manafort, called the Times story "total bullshit."
Caputo, a longtime political strategist who continued to back Trump after leaving the campaign, called Manafort "a patriot" and said flatly, "He would never do this. These sources are lying, and the Times is printing fake news."
"I worked right next to him, dined with him, drank with him," Caputo added in a series of online messages.
Caputo laid the blame for the stories at the feet of officials who were appointed by former President Barack Obama, summing up his rejection of the New York Times piece as mere "partisan sniping." 
"The reporters are either lying or being lied to," Caputo said. "It's anonymous fabricated bullshit from Obama holdovers."