Immigrant protected under Obama-era program arrested in Seattle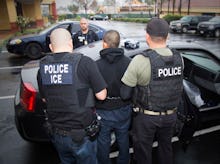 A 23-year-old Seattle man detained by immigration officials on Friday was authorized to stay in the United States by a program created during the Obama administration, raising thorny legal questions about immigrants' rights under President Trump. 
The man, Daniel Ramirez Medina, had been granted deferred action and employment authorization under Obama's Deferred Action for Childhood Arrivals, or "DACA", program in 2014 and again in 2016, CNN reports. But when immigration officials showed up at his door on Feb. 10 to arrest his father, they took him as well.
According to the New York Times, Ramirez and his lawyers have since filed a lawsuit against the federal government on the grounds that his detainment is unconstitutional, "unprecedented and unjustified." 
"This is a clear violation of his rights," said Mark Rosenbaum, one of the lawyers who helped file the case in Federal District Court in Seattle, told the New York Times. "There was a solemn promise from the executive branch that they would be protected. People have staked their lives and well-being on that promise."
Conflicting versions of events
In a statement obtained by the Times Tuesday night, a spokeswoman for Immigration and Customs Enforcement said Ramirez was arrested on the grounds that he is a "self-admitted gang member" who is a "risk to public safety."
But Rosenbaum countered that his client "unequivocally denies" having a gang affiliation.
"While in custody, [Ramirez] was repeatedly pressured by U.S. Immigration and Customs Enforcement agents to falsely admit affiliation," Rosenbaum told CNN. "The statement issued tonight by [ICE] is inaccurate."
Questions about future arrests
Under Obama, ICE agents were tasked with arresting immigrants who had successfully dodged repeated deportation attempts and those who had been convicted of crimes. But Ramirez was arrested without cause — something that immigrants' rights activists believe may be a first. 
The move ushers in new questions about what life will be like for immigrants brought to the U.S. as children — as Ramirez was, when he was 7 years old.
In a statement, House Minority Leader Nancy Pelosi said the country should not waste time and resources on deporting law-abiding members of communities. 
"Dreamers represent the best of America. We must get to the bottom of this so that it doesn't happen again," she said.