Harrison Ford under FAA investigation after botched airport landing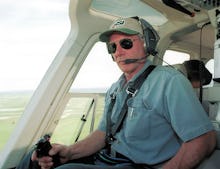 NBC News reported on Tuesday that actor Harrison Ford mistakenly landed his single-engine plane on the taxiway instead of the runway at John Wayne Airport in Orange County, California, Monday.
The mixup, a violation of Federal Aviation Administration rules, has prompted the organization to launch an investigation into Ford.
NBC reported that Ford was instructed to land on runway but mistakenly aimed for a taxiway, where his plane "passed over the top of an American Airlines 737 carrying 110 passengers and a six-person crew."
On a recording of his dispatch with air traffic control, Ford asks, "Was that airliner meant to be underneath me?" Air traffic controllers reportedly told Ford he had landed on the taxiway instead of the runway, and the FAA told NBC that those controllers had also given Ford correct landing instructions — and that he read them back.
Although Ford, according to NBC, is "revered as an excellent pilot in aviation circles" and "has been inducted by the Kiddie Hawk Air Academy as a Living Legend of Aviation," this isn't his first flying mishap. NBC reported that Ford has had aviation issues before: In 1999, Ford crashed a helicopter during a flight lesson. A year later, his vintage six-seater scraped the runway in an emergency landing.
Most recently, Ford crashed a World War II-era plane on a Santa Monica golf course near a small airport in 2015 after the engine failed. At the time, a witness told NBC that Ford "saved several lives" by choosing to land on the golf green.
The 737 passenger plane at John Wayne Airport was able to depart without issue minutes after Ford's plane flew over it Monday. The FAA investigation of the incident could result in anything from a warning letter to Ford's pilot license being suspended.