Karlie Kloss apologizes after dressing up as a geisha for latest 'Vogue' issue celebrating diversity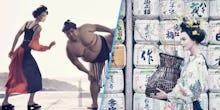 While the cover of the March issue of Vogue is all about celebrating diverse women, with plus-size model Ashley Graham and models of color like Liu Wen, Imaan Hammam and Adwoa Aboah all in an embrace, the inside is turning out to be, well, a mess. 
The first sign of that is a new photoshoot starring Karlie Kloss that finds the top model dressed up like a geisha, complete with a powdered white face and red-stained lips. 
In one shot, Kloss, who is white and happens to be dating Jared Kushner's brother, is posing next to a sumo wrestler. In another, she's at a temple. 
Early Wednesday morning, Kloss apologized for the spread, writing on Twitter: "These images appropriate a culture that is not my own and I am truly sorry for participating in a shoot that was not culturally sensitive. My goal is, and always will be, to empower and inspire women. I will ensure my future shoots and projects reflect that mission." 
But that apology came far too late. On Twitter, as the images hit the web, there was immediate backlash, with many saying that what she was doing was not only culturally appropriative but actually yellowface. 
This Kloss shoot also comes at time when many white celebrities have been remarkably nonchalant about posing themselves as Asian people, from Emma Stone agreeing to play an Asian-American woman named Allison Ng in the poorly-received Aloha to Scarlett Johansson being cast as the lead in the remake of the Japanese anime Ghost in the Shell. 
Despite her apology, this isn't Kloss' first time apologizing after wearing a culture that's not her own as a costume for fashion's sake. 
At the 2012 Victoria's Secret Fashion Show, Kloss wore an enormous Native American-inspired headdress. 
And for that too she apologized. 
As far as Vogue goes, it's not new to this sort of outrage either, with articles published in the past regarding things like "slave earrings" and photoshoots with models in blackface. 
What's concerning here too is that, much like Hollywood's love of casting white women as Asian women rather than Asian women, there are plenty of Japanese models who could have been put in Kloss' place. Like Chiharu Okunugi or Rola, both of whom have already been featured in Vogue. 
But no. Vogue decided to cast one of the most popular white models in fashion and give itself yet another scandal. 
Mic has reached out to Vogue for comment.