Who will play Donatella Versace on 'American Crime Story'? Creator teases season 3 cast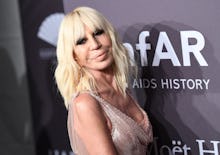 During an appearance on Watch What Happens Live With Andy Cohen on Wednesday night, Ryan Murphy teased several projects he is currently working on. 
While Cohen pressed him on the next two seasons of American Crime Story, Murphy spilled some fresh tea. Apparently, he is in conversations with a certain Oscar winner to play the role of Donatella Versace in the third season of the show, which will focus on the murder of fashion designer Gianni Versace. He also confirmed that Edgar Ramirez will play Gianni Versace and Darren Criss will play Andrew Cunanan. (The second season of ACS, Katrina: American Crime Story, will address the devastation of Hurricane Katrina, and has already cast Annette Bening in the role of Louisiana governor Kathleen Blanco.) 
In 1997, Gianni Versace was killed at his Miami home by serial murderer Andrew Cunanan, who then committed suicide in the days that followed.  
While Murphy is considering an Oscar winner, it's inconceivable that anyone other than Maya Rudolph, who famously played Donatella on Saturday Night Live for several years, would be cast in the role.
But if Murphy is teasing an Oscar winner to play the iconic fashion designer and sister to Gianni, we have some guesses who it could be. 
Gwyneth Paltrow
Paltrow is the obvious choice given her history with Murphy. They made magic once before on Glee, with Paltrow getting an Emmy for her guest performance as Holly Holliday. Paltrow is also very involved in the fashion world, so we imagine this choice would be approved. 
Catherine Zeta-Jones
Murphy has a penchant for dipping back into his pool of actors. Zeta-Jones stars in Feud: Bette and Joan as Olivia de Havilland and would be a perfect choice for the role. 
Reese Witherspoon
Outside of the blond hair, this choice may seem odd, but Murphy has said that he's tried to get her onto American Horror Story. Witherspoon has always been busy before, but perhaps this could finally be their chance to work together. 
Julia Roberts
Remember, Murphy likes to keep things in the family, and while he does cast actors who have never worked with him before, we feel a role like this would go to someone he knows. Roberts and Murphy worked together on The Normal Heart for HBO and on the big-screen adaptation of Eat Pray Love. 
Charlize Theron
Believe it or not, the Glee creator has a connection to Charlize Theron — he bought her home. Murphy purchased the Oscar-winner's beach house in 2011 for a cool $6.5 million, but other than this purchase the two have never worked together. Theron, who stars in this year's The Fate of the Furious, has never been one to shy away from doing something different, and this seems up her alley. 
Mira Sorvino
Now, Mira Sorvino has no immediate connection to Murphy that we know of, but she would be a great choice. Sorvino won her best supporting actress Oscar for Mighty Aphrodite in 1996. While she has worked steadily over the years, this would be a great comeback role for her to take on just like fellow 1990s Oscar winner Cuba Gooding Jr. did with O.J. Simpson. It would also be a cool connection considering Sorvino presented Gooding with his award in 1997. 
Marisa Tomei
Like Sorvino, Tomei doesn't have any previous ties to Murphy, but she would probably have a ball playing Donatella Versace. She won her Oscar in 1993 for her performance in My Cousin Vinny, and if anyone should play Donatella, it should be another Italian. 
Mic has ongoing TV coverage. Please follow our main TV hub here.