Carlos Santana made some sexist remarks about Beyoncé and the Beyhive wasn't having any of it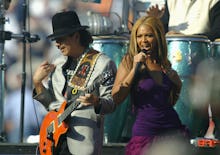 Beyoncé is more of a model than a singer — according to Carlos Santana. 
Santana spoke to the Australian Associated Press on Tuesday about Beyoncé's Grammy album of the year upset to Adele. His comment about the "Formation" singer being more of a "model," as well as other sexist remarks he made, insinuate he's been paying more attention to what she's wearing while performing than her actual talent. 
"I think that Adele won because she can sing, sing," Santana said. "With all respect to our sister Beyoncé, Beyoncé is very beautiful to look at and it's more like modeling kind of music — music to model a dress — she's not a singer, singer, with all respect to her." 
After being nominated three times for album of the year, many of Beyoncé's fans — and even Adele — thought Bey's Lemonade deserved to take home the biggest Grammy of the night. Santana apparently disagreed.
He went even further to suggest that Bey uses an elaborate performance style to make up for an inability to "sing, sing."
"Adele can sing, sing. She doesn't bring all the dancers and props, she can just stand there and she just stood there and sang the song and that's it, and this is why she wins," Santana told AAP.
The Beyhive quickly came to Beyoncé's defense on Twitter. 
There were others who agreed with Santana:
Some were even concerned about whether Santana was trending for more serious reasons:
Santana attempted to clarify his original statements in a Facebook post after the backlash. He said his comments were "regretfully taken out of context."