'The Walking Dead' season 7, episode 9 had over 300 zombie kills in one unforgettable scene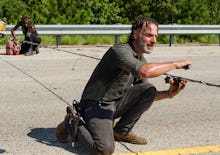 Whether or not The Walking Dead's midseason premiere for season seven was actually good — or redeemed what's been an otherwise forgettable slate of episodes — comes second to another important hallmark for the AMC series: excessively brutal zombie kills. And on that end, "Rock on the Road" absolutely delivered. 
If you've seen the episode, you know exactly what we're referring to. Rick and the group took a highway pitstop to snag some dynamite wrapped over steel wire — then zombies show up. One thing leads to another and soon Rick and Michonne are re-enacting the opening scene of Ghost Ship. 
Here's a gory refresher, mostly because it's so damn satisfying in GIF form.  
This might not come as a surprise, given the scale, but it turns out this is officially the most zombie kills the show has had in a single episode. This comes straight from The Walking Dead's story sync function on AMC — usually a source for fun, behind-the-scenes tidbits from each episode — which puts the number at over 300 kills. Amazingly, the scene wasn't originally planned for the episode.
"It wasn't in the script," Walking Dead executive producer Greg Nicotero told Comicbook.com. "We wanted the episode to have a big bang, so when we come back, we were always coming back with a splash ... When I read the first draft I was like, 'It's right there.' I said, 'If you guys would have had another day to work on the script you probably would have found it. This cable that's attaching the two cars. You have a perfect opportunity.'" 
With Negan-mania taking over the show's seventh season, it's great to see them going back to the basics and just killing some zombies. Let's hope for more going forward as AMC tries to right the ship and end season seven on a high note. 
The 10th episode of The Walking Dead's seventh season, "New Best Friends," premieres Sunday at 9 p.m. Eastern on AMC. Check out a sneak peek of the upcoming episode below:  
Mic has ongoing coverage of The Walking Dead. You can follow our main Walking Dead hub here.