For Black History Month, black second graders at LA school receive math homework about slavery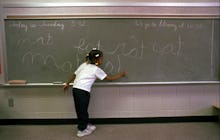 Every February, schoolchildren across the country learn about Black History Month. At an elementary school in Los Angeles, black second graders got quite a controversial lesson last week.
At Windsor Hills Elementary, a prestigious math and science magnet school, second graders received math homework containing a word problem about slaves picking cotton, the Root reported. The word problem used words such as "plantation," "slave" and "master."
Read it for yourself:
The master needed 192 slaves to work on plantation in the cotton fields. The fields could fill 75 bags of cotton. Only 96 slaves were able to pick cotton for the day. The missus needed them in the Big House to prepare for the annual picnic. How many more slaves are needed in the cotton fields?
Karol Gray, a grandmother of a second grader at Windsor Hills, was horrified by the homework her 7-year-old granddaughter was assigned.
"It's definitely disturbing using terms like plantation, master — my daughter doesn't know what these things mean," Gray told NBC News. 
Gray said second graders also received word problems about a man being shipped or "mailing himself to freedom." She also told NBC News that several parents contacted her informing their children also received homework with the same word problem.
According to the Root, Windsor Hills is a predominantly black neighborhood and black children make up about 87.3% of the elementary school's student population.
So for Karla Clark, a parent of a child at Windsor Hills, it's disturbing to see an insensitive word problem about slavery assigned to students during Black History Month.
"This is Black History Month — it's hard enough to know you have ancestors who were slaves, but to hear it's blown up in this type of way is disturbing," Clark said.
Los Angeles Unified School District Superintendent Michelle King issued a statement in response to the public backlash of the homework.
"LA Unified is committed to providing a safe, welcoming, nurturing and secure learning environment for our students," the statement read. "All employees are expected to treat students with respect. The district takes this matter seriously, is investigating it and will take appropriate measures."