Ivanka and Trudeau photos go viral because no one can stop gushing over the Canadian PM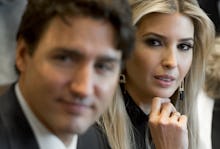 It seems that Canadian Prime Minister Justin Trudeau's charisma and good looks have mesmerized Ivanka Trump — or at least that's what photos taken during Trudeau's recent visit to the White House suggest.
During his official trip to Washington, D.C., Trudeau joined a roundtable about women in the workforce. Ivanka Trump also attended the meeting and "helped recruit participants and set the agenda," Associated Press reported. 
While Trump addressed the importance of women in the creation of economic growth, pictures from the event led Twitter to believe that she was swooning over Trudeau at the same time:
Even Mic's very own Jack Smith IV noticed her telling gaze:
Others tweeted: "Roses are red, violets are blue, I wished I loved you as much as Ivanka Loves Trudeau #WhiteHouseCandyHearts" 
Apparently, no one can blame Ivanka's admiration for the Canadian prime minister:
And Trump is not alone. During separate encounters with Trudeau, actress Emma Watson and Duchess of Cambridge Kate Middleton could not take their eyes off Trudeau, as this Twitter user suggests:
Others recognized the "hunger" in Ivanka's eyes:
Former NFL player Matthew A. Cherry wrote, "Ivanka looking like she's willing to risk it all."