Delphi, Indiana: Latest updates after two bodies found dead near trail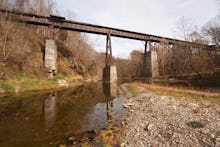 Two bodies were discovered in Delphi, Indiana, following a search for two 13-year-old girls who went missing Monday, local ABC affiliate RTV6 reported Tuesday.
Authorities have not yet confirmed that the bodies are those of 13-year-olds Abigail "Abby" Williams and Liberty "Libby" German, but according to RTV6, the Delphi Community Schools Corporation sent a letter home with students on Tuesday confirming those suspicions.
"It is with heavy hearts that the school corporation day comes to an end," the letter read. "It is our understanding that the two bodies found today were those of our two missing Delphi Community Middle School students."
Indianapolis Fox News affiliate Fox59 reported Tuesday that family and friends immediately began searching for the girls near the pick-up spot. It is unclear who discovered the bodies, but they were discovered on Tuesday about half a mile from the Monon High Bridge.
Williams and German were supposed to be picked up near the Monon High Bridge, an abandoned railroad track, on Monday afternoon but never showed up. The last post on German's Snapchat account, reportedly taken at 2:07 p.m., an hour after the pair was last seen, shows the girls walking along the Monon High Bridge.
Police suspect foul play, but have not released information about injuries and there is currently no information on potential suspects. Fox59 reported Tuesday that autopsies were scheduled for Wednesday at 8 a.m.
As of Tuesday, authorities had not called off the search, but according to Sergeant Kim Riley with Indiana State Police during a Tuesday press conference, the search had been "scaled back," RTV6 reported. Authorities held off on issuing an amber alert because the situation "does not meet the criteria," but the search Monday and Tuesday included a K-9 unit and a dive team.
An hour before the press conference, Curtis Borden, the Delphi Assistant Fire Chief, reportedly told RTV6 that the two missing girls had been found and that it was "not good."
During the Tuesday press conference, Delphi Police Chief Steve Mullins said the search and discovery has "had a terrible effect on our people and we are grieved this sort of thing would happen here in our community."