Founder of Little Caesars Mike Ilitch paid Rosa Parks' rent for a decade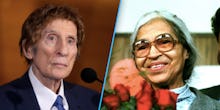 Mike Ilitch, founder and owner of Little Caesars, died Friday at the age of 87, CNN reported. As Ilitch's hometown of Detroit mourns the pizza magnate — who was the son of Macedonian immigrants — many people are sharing heartwarming stories of his life. 
One such story that's not well-known: Ilitch and his wife, Marian Ilitch, paid Rosa Parks' rent for more than a decade, U.S. Court of Appeals Judge Damon Keith told WXYZ-TV Detroit.  
"I want to let everyone know how much the Ilitches not only meant to the city, but they meant so much for Rosa Parks, who was the mother of the civil rights movement," Keith said. 
How the Ilitch family supported Detroit
In 1994, Parks was beaten and robbed while living in Detroit. Following the incident, Keith said he called on the community to help Parks move to a different neighborhood. Soon after, the Ilitch family sent Keith a check to cover Parks' rent and continued doing so until Parks died more than a decade later. Keith keeps a copy of one check in his desk as a reminder of the Ilitches' generosity during Parks' time of need, he said. 
Keith also noted the Ilitch family's long-term investment in the struggling Michigan city. 
"If it hadn't been for them, Detroit would not be in the renaissance that they are in now," Keith told CNN. 
Other philanthropy from the Ilitches included donating millions to Detroit's Wayne State University and investing in Little Caesars Arena, the future home of the Detroit Red Wings, according to CNN. 
In 1959, Mike and Marian Ilitch opened the first Little Caesars in Garden City, Michigan. The restaurant and franchise became so successful, Forbes estimated the couple's net worth at $6.1 billion.