Alanis Morissette robbery: Everything we know about the $2 million jewelry theft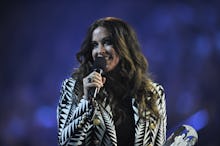 Thieves robbed $2 million worth of jewelry and valuables from Grammy-winning singer Alanis Morissette's mansion in Los Angeles' Brentwood neighborhood on Feb. 9, TMZ reported. 
A spokesperson for the Los Angeles Police Department, who did not name Morissette, confirmed that "suspects made off with a safe containing approximately $2 million worth of jewelry and other items or property." 
Morissette had shared photographs of her jewelry collection, naming the designer of the pieces, through her Instagram account. TMZ reported that the social media posts may have motivated the thieves. 
Neither Morissette, her husband Mario "Souleye" Treadway nor their two children were home at the time of the robbery. She has not commented publicly on the incident, but she did share a photograph on Twitter emphasizing positive thinking. 
Morissette is not the first high-profile musician to have been robbed in recent months. The Los Angeles Times reported that Nicki Minaj's Beverly Hills home was broken into in early February, with those thieves taking $175,000 in jewelry and valuables. 
Nor is this the first theft Morissette has personally experienced. Her former manager, Jonathan Todd Schwartz, recently admitted to embezzling more than $7 million from Morissette and other celebrities. Schwartz, who was charged with filing a false tax return and wire fraud, had listed the withdrawals as "sundry/personal expenses."
Mic has ongoing music coverage. Please visit our main music hub.