Alexander Wang accuses Philipp Plein of copying his runway show in blistering Instagram call-out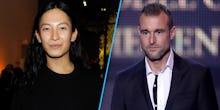 The premiere of Ryan Murphy's Feud highlighting the backstage battle between Bette Davis and Joan Crawford, may be over a month out, but a real-life feud is bubbling between two of fashions biggest young stars.
On Tuesday night, celebrated designer Alexander Wang, recipient of such honors as Swarovski Womenswear Designer of the Year and Council of Fashion Designers of America's Best Accessory Designer, sent a pointed message to New York Fashion Week newcomer Philipp Plein: You copied my runway show.
He didn't say that directly, instead using the template of a viral meme, and the ultimate of receipts: a side-by-side video of his 2014 Alexander Wang x H&M runway show with Plein Sport's 2017 runway show that took place in January in Milan. (Note Wang's emoji caption.)
The post was quickly flooded with hundreds of comments: "THE TEA," "SHADEEEEEEEEEEEE" and "Savage!!!!" was the overarching sentiment. 
There was also this: "Plein just 2 piece chicken wing without the fry." And this: "Plein sport is the Melania to your Michelle, AWang." Also this: "facts vs alternative facts."
This is not Plein's first time courting controversy. Weeks ago, Plein was slapped with a patent infringement lawsuit from French leather goods company Perrin Paris. According to Perrin, the clutch in question, Plein's "glove-clutch," was "the exact duplicate, same size, same design, same concept [as the Perrin clutch]."
The irony of all this being the theme for Plein's runway show: Make New York Fashion Week Great Again.
Will Plein publicly retaliate to Wang? We'll have to wait and see. 
In the meantime, The show's art director, Simon Costin, weighed in on the controversy when reached out to for comment: "It's quite bizarre really. I suppose you could say they both have sports themes, but they are very different set-ups. Also the pictures [Wang] chose are very misleading because the whole set was a gigantic gym and they chose a picture that's very dark from when the show had just started. I find the whole thing quite strange."
Mic has reached out to Phillip Plein and Alexander Wang for further comment.
Feb. 15, 2016, 12:03 p.m.: This story has been updated.