Galaxy S8 Plus Leak: Samsung seems to have accidentally revealed the new smartphone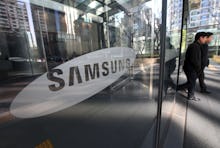 Samsung has been hush-hush about its upcoming smartphone — the Galaxy S8 — but the tech company appears to have accidentally leaked one version of its new device. CNET reports that Samsung published what seems to be the S8 Plus support page on its Samsung India website. The page is blank now and not much was revealed aside from confirmation that the product (a larger model of the upcoming device) exists.
The S8 is rumored to come in two sizes: a 5.8-inch model and a 6.2-inch model, code-named Dream and Dream 2 respectively. Given the recent leak, it is safe to assume the S8 Plus will be the 6.2-inch device.
According to CNET, some reports claim the S8 Plus will have a larger battery — a 3,750 mAh as opposed to the S8's 3,250 mAh battery. The larger model will also reportedly feature QHD Super AMOLED screens that will take up 83% of the device's front panel. Citing unnamed sources, the Guardian reports these screens may resemble those of the Galaxy S7 Edge, as they will "curve down at the left and right sides of the device."
The South Korean company is changing things up with the S8 and delaying the announcement following of the Note 7 fiasco. Instead of debuting the device at the Mobile World Congress trade show in Barcelona later in February, the company will reportedly unveil the new device on March 29 in New York City and it will reportedly be available for purchase on April 21.
As for MWC, Samsung will reportedly offer a sneak peak of the S8 in a one-minute video at a press event on Feb. 26 announcing the Galaxy Tab S3, the Korea Herald reports. Recent reports also claim that Samsung will disclose the official release date for the S8 at MWC on Feb. 27, a day after its press event.