These are the safest cities to be LGBTQ in America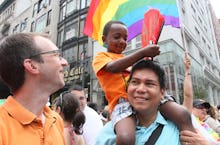 It's been more than a year since the Supreme Court's landmark Obergefell v. Hodges decision made same-sex marriage the law of the land — a historic move that was widely hailed as a blanket victory for the entire LGBTQ rights movement. 
But the hard truth is, while same-sex couples now have the right to marry in every state, LGBTQ are routinely denied other basic rights — and, in plenty of places in the United States, that's perfectly legal.
Yes, you read that right. As Chad Griffin, president of Human Rights Campaign, said in 2015 shortly after the Supreme Court's decision, "Even after this 50 state marriage victory at the Supreme Court, in most states in this country, a couple who gets married at 10 a.m. remain at risk of being fired from their jobs by noon and evicted from their home by 2 p.m. simply for posting their wedding photos on Facebook."
Griffin also pointed out that transgender Americans "remain disproportionately at-risk of facing discrimination — and even violence — in their daily lives."
While it's still true most U.S. states do not have statewide laws prohibiting discrimination based on sexual orientation and gender identity, some American cities are safer than others when it comes to legal protections for LGBTQ people. 
The HRC's 2016 Municipal Equality Index ranked 506 cities across the country on criteria which included whether or not they have non-discrimination laws, the inclusiveness of city services and city law enforcement, including the reporting of hate crimes.
Of the 506 cities evaluated, 60 scored a perfect 100 on the HRC's index — including some cities that were passing laws to protect LGBTQ communities even as their state legislators worked to enact anti-LGBTQ legislation. In Iowa, for example, three cities scored a perfect 100 on the HRC's index even though, in 2016, the state's Republican-controlled house killed a bill that would have added transgender people to the list of groups protected against hate crimes.
Here are the 60 cities and municipalities, listed by state, offering LGBTQ people the most legal protections and inclusion, according to the HRC's 2016 rankings:
Arizona: Phoenix, Tempe, Tuscon
California: Cathedral City, Guerneville (Sonoma County), Long Beach, Los Angeles, Palm Springs, Rancho Mirage, Sacramento, San Diego, San Francisco, San Jose, West Hollywood
Connecticut: Stamford
Florida: Orlando, St. Petersburg, Wilton Manors
Georgia: Atlanta
Illinois: Chicago
Indiana: Bloomington 
Iowa: Ceder Rapids, Davenport, Iowa City
Kentucky: Louisville  
Maryland: Baltimore
Massachusetts: Boston, Cambridge, Provincetown, Salem, Worcester
Michigan: Ann Arbor, Detroit, East Lansing
Minnesota: Minneapolis, Saint Paul
Missouri: Kansas City, St. Louis
Montana: Missoula
Nevada: Enterprise, Las Vegas, Paradise
New Jersey: Jersey City
New York: Albany, New York, Rochester, Yonkers
Ohio: Cincinnati, Columbus, Dayton
Oregon: Portland
Pennsylvania: Philadelphia
Rhode Island: Providence
Texas: Austin, Dallas, Fort Worth
Washington: Bellevue, Olympia, Seattle
Wisconsin: Madison
But even in the top-scoring cities on the HRC's index, people who identify as LGBTQ may still face discrimination and violence. As the report accompanying the index made clear, "Even the most thoughtful survey of laws and policies cannot objectively assess the efficacy of enforcement and it certainly cannot encapsulate the lived experience of discrimination that many LGBTQ people—even those living in 100-point cities — face every day."
With a slew of new anti-trans "bathroom bills" being proposed for 2017 and the Trump administration poised to roll-back protections for trans students, the pressure will be on LGBTQ-friendly cities and municipalities to do even more to protect their residents. 
Some cities are already stepping up to the plate and promising to do whatever it takes to maintain and extend legal protections for LGBTQ people. In a resolution passed in November, as an official response to the results of the presidential election, the San Francisco Board of Supervisors stated the city's position in no uncertain terms — "there will be no conversion therapy, no withdrawal of rights in San Francisco," it read.
"We began hosting gay weddings twelve years ago, and we are not stopping now. And to all the LGBTQ people all over the country who feel scared, bullied, or alone: You matter. You are seen; you are loved; and San Francisco will never stop fighting for you."