Who is Robert Harward? 5 things to know about the possible White House security advisor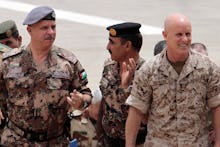 In the wake of Michael Flynn's resignation, the Trump administration is now searching for a new security advisor to replace him — and it looks likely to be Vice Adm. Robert Harward. 
Harward has emerged as a frontrunner for the advisor position, the Washington Post reported, though other candidates under consideration include Lt. Gen. Keith Kellogg and Gen. David Petraeus. 
As compared to the more controversial Flynn, who shared Trump's outsized perception on the threat of ISIS and likened Hillary Clinton to those he fought against in the military, Harward is a far less combative choice. According to Trump administration officials cited by the Post, the administration's leaders see Harward as "a steady pick for the post following the tumult that surrounded Flynn."
In response to the news of Harward's potential promotion, former Obama National Security Council spokesman Tommy Vietor praised the choice, writing on Twitter that Harward is a "very impressive (and nice) guy."
Here's what to know about the potential national security advisor:
He grew up in the Middle East
Before he began his own military career, Harward was introduced to the armed services through his father, who was a naval officer. As a result of his father's job, Harward, a Rhode Island native, grew up in Iran and graduated from the Tehran American High School.
Harward, his Navy biography notes, went on to graduate from the United States Naval Academy and the Massachusetts Institute of Technology Center for International Studies foreign policy program, Seminar XXI. Harward has a master's degree in international relations and strategic security affairs, and also attended the College of Naval Command and Staff, the Naval Staff College and the Armed Forces Staff College.
He's a former Navy SEAL
Harward has extensive combat experience as a Navy SEAL, his Navy biography notes, and served in SEAL teams on both the east and west coasts.
In addition to his SEAL experience, Harward — whose bio explains that he commanded troops in Iraq and Afghanistan for six years following 9/11 — has also served as deputy commander of the U.S. Joint Forces Command; commander of the Combined Joint Interagency Task Force in Afghanistan from 2009 to 2011; and deputy commander of U.S. Central Command. 
At Central Command, Harward worked under current Secretary of Defense James Mattis, with whom he still remains friends, the Washington Post noted. "He's brilliant (for a SEAL, smile),"  Mattis wrote of Harward in emails released due to a Washington Post Freedom of Information Act request over Petraeus' CIA resignation, according to CNN.
He has experience in the Executive Branch
Harward also has experience in the executive branch. During George W. Bush's administration, Harward served on the National Security Council as the director of strategy and policy for the Office of Combating Terrorism, his Navy biography notes.
Harward also served on the Senior Interagency Strategy Team as the chairman of the Joint Chiefs of Staff representative to the National Counterterrorism Center, which Harward helped to create, according to the Tampa Bay Times.
He's an advocate for girls' education
Harward penned an op-ed for the Huffington Post in 2013 detailing the importance of girls' education. 
In the piece, Harward praised the work of Nobel Peace Prize winner Malala Yousafzai and drew on his own personal experiences in the Middle East before calling on advocates to "come together and rally around specific and measurable goals" in order to give girls around the world equal opportunities.
He currently works for Lockheed Martin 
Harward retired from the military in 2013 — following a retirement ceremony in which he jumped out of an airplane — and currently serves as the CEO for aerospace technology company Lockheed Martin's division in the United Arab Emirates.
According to Bloomberg's executive profile, Harward "is responsible for all aspects of the company's business interests in the UAE, including strategy, operations, and growth of the firm's programs, as well as successful execution of all ongoing business."