Steve Bell Trump cartoons: Here are the best from the first month of Trump's presidency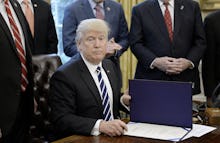 Steve Bell, an award-winning British political cartoonist whose strip If... has appeared in the Guardian since 1981, has spent the past month viciously skewering President Donald Trump. Bell's use of absurd, avant-garde, sometimes outright offensive caricatures to criticize the new commander in chief have drawn notice in the United States, as well as in the United Kingdom.
In If..., Bell draws Trump's hair as a golden toilet from which White House adviser Steve Bannon – depicted as a rat – occasionally pops out, or into which the President tosses various objects, like the world or the Constitution, when it's not exploding with ominous light or steam.
Some of Bell's best cartoons come in the form of multi-panel storylines and series that play out over a few days. One series took aim at Trump's fear of stairs while another lampooned his Muslim ban. A third mocks Trump's ignorance of the U.S. Constitution, with Trump putting the Constitution in his head — the golden toilet — during his inauguration.
Although Bell's multi-panel strips are cutting, his single-panel cartoons often explode with muted satire. In a Feb. 6 cartoon, Bell expertly contrasts U.K. Prime Minister Theresa May's apparent willingness to cooperate with Trump with Speaker of the House of Commons John Bercow, showing May bowing to Trump with Bercow on her back, giving Trump an unmistakably British sign of disapproval. The cartoon follows Bercow's recent speech insisting that Trump was not welcome to give an address to Parliament.
Bell, who is no stranger to controversy, came under fire recently for a cartoon about the U.S. and Britain's "special relationship," featuring Trump and May in bed with both their legs facing down. Critics called the cartoon misogynist, vile, and appalling. The Guardian defended Bell and his cartoon, telling Heat Street that "Steve Bell is recognized by his peers – and Guardian readers – as a controversial and talented cartoonist. His work is satirical and is intended to be viewed in this context."