Chance the Rapper 2017 tour details, including dates, cities and more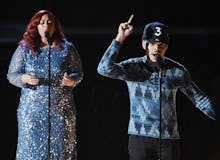 Just days after his historic Grammy night — Chance the Rapper was the first artist to win for a streaming-only album and the first black hip-hop artist to win the best new artist award since Lauryn Hill in 1999 — Chano is keeping the momentum going by hitting the road this spring. He tweeted out info regarding the tour on Valentine's Day:
There is no word yet on who will join Chance for his concert dates. 
How to purchase Chance the Rapper tour tickets
Chance has assured tickets to his shows will be easy on his fans' pockets. 
"We worked hard to make sure everybody could afford a ticket to the show. Do not pay resale, get them on http://ChanceRaps.com," he tweeted Tuesday. 
Prices of the show vary by city; specific ticket prices can be viewed through Chance's website. 
What's included in Chance the Rapper VIP tour packages?
And for those who do have some extra money to spend, there are two VIP packages available for select cities.
The "Tweeted by Chance" package will run you $250, and it includes perks like "a selfie of you with Chance, tweeted by Chance" and early entry to the show. The second special offering is the "Rock, Paper, Scissors" package, which costs $75. This package includes a game of rock, paper, scissors with Chance, early entry and one of his Signature 3 hats.
The site notes that the packages do not include tickets to the show, and no photos or cell phones will be allowed during the VIP meet and greets with Chance. 
Chance the Rapper spring tour 2017 cities and dates
The tour dates listed below are shows Chance the Rapper is headlining, but they also include stops he's making at several big music festivals such as Governor's Ball in New York City; Bonnaroo in Manchester, Tennessee; Firefly Festival in Dover, Delaware; and Hangout Festival in Gulf Shores, Alabama.
Chano is performing in 36 cities total, and tickets already seem to be going fast in some markets. Note: Tickets for his Denver show May 2 and his Los Angeles show Oct. 3 are already sold out. To make up for it, he has added a second night for Denver and a second night for Los Angeles. 
Here is full list of updated Chance the Rapper spring tour 2017 dates that can be purchased via his site, Chanceraps.com:
April 24: San Diego, California – Valley View (SOLD OUT)
Mic has ongoing coverage of the Chance the Rapper. Please follow our main Chance the Rapper hub here.