What has Kate Upton been up to? Here are 7 things to know about the 'Sports Illustrated' model.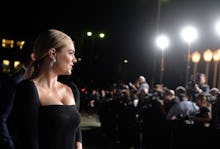 Kate Upton will be on the cover of Sports Illustrated's 2017 swimsuit edition, marking her third time gracing the front of the annual special issue. 
She shared the news on Jimmy Kimmel Live!, where three different covers were revealed to viewers. 
Upton made her debut in Sports Illustrated in 2011, according to CNN, and was also named rookie of the year by the outlet. Also featured in Complex and Esquire, the model — who skyrocketed to internet fame after a video of her dancing at a Clippers game went viral — was photographed for the Sports Illustrated cover in 2012 and 2013. 
So, what has she been up to since her last cover? 
Kicking Jimmy Fallon's butt at flip-cup
When she was a guest on Late Night with Jimmy Fallon, Upton played her first-ever game of flip cup. Even though she didn't go to college and lamented that she "missed out" on drinking games, Upton proved to be a natural at the game and quickly beat Fallon. 
Going Hollywood  
Upton made her big-screen debut in Tower Heist in 2011 and also appeared in 2012's The Three Stooges and 2014's The Other Woman. She can be seen next in The Wild Man and The Lover, both of which are in post-production. 
Mocking the absurdity of "high fashion"
Using the tagline "reality vs. high fashion," Upton used her own Instagram to depict the absurdity of glamorous shots, juxtaposing a chic photograph next to a shot of her doing everyday tasks. 
Getting engaged 
At the 2016 Met Gala, Upton showed off an engagement ring from Justin Verlander, a starting pitcher for the Detroit Tigers. The two dated for three years before he popped the question. 
Going after the Kardashians on social media 
In August, Upton posted a photo to Snapchat using the "pretty" filter and captioned it, "I look like a Kardashian, nose job and all," alluding to a surgery Khloé Kardashian denied having. Given Upton's previous comments regarding body positivity and being a role model, the jab surprised her followers. 
Rising above the haters 
Upton has been labeled "curvy" by industry standards and has been the target of some online bullying. In September, she spoke to CNN about her experiences being judged:
"It takes time to get used to [cyberbullying] but eventually you just have to realize that they don't know who you are. They are going to judge no matter what and you really just have to ignore it ... I almost think the body is art, everyone's perspective is their own and it comes from their own place. People are naturally tall, short, skinny, curvy, whatever. So I feel like limiting yourself to one label isn't right, you can be everything."
Getting political on social media 
Upton took to Instagram to share her thoughts regarding football players kneeling in protest during the national anthem.
"Sitting or kneeling down during the national anthem is a disgrace to those people who have served and currently serve our country. Sitting down during the national anthem on Sept. 11 is even more horrific. Recent history has shown that it is a place where anyone, no matter what race or gender, has the potential to become president of the Unites States. We live in the most special place in the world and should be thankful."