After 1 year of diversity, 'Sports Illustrated' swimsuit has a skinny white woman back on its cover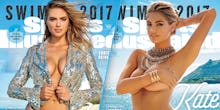 And we thought it was moving in the right direction. 
In 2016, the Sports Illustrated swimsuit issue tapped its first-ever plus-size model, Ashley Graham, and UFC fighter Ronda Rousey for its covers. It felt like a major move for the publication's annual issue, which has long been known for flaunting women with slim waists and with curves only in certain places. 
And ahead of the release of the 2017 covers, it seemed like the magazine was taking diversity seriously yet again: Aly Raisman and Simone Biles are featured in the issue, as well as Ashley Graham. 
But they didn't make the cover of the 2017 Sports Illustrated swimsuit issue. Despite the issue's themes of body diversity and age inclusivity, a skinny, white, blonde model — in other words: one typical of past swimsuit editions — did. 
Model Kate Upton, who's been featured on an SI swimsuit cover twice before, is on three of the 2017 issue's covers.
Although there is diversity within the 2017 issue — with the aforementioned Graham, Biles and Raisman, as well as 63-year-old Christie Brinkley and Serena Williams and plus-size rookie Myla Dalbesio — it didn't make it to the cover again. 
What does this say about Sports Illustrated as a whole? Well, it could be taken by some to mean that SI saw this diversity as a fad, only to take the easy way out the very next year. And that's pretty discouraging.