Rory Feek's story about how he met Joey will put tears in your eyes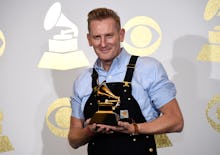 After winning the award for best roots gospel album at the 2017 Grammys, Rory Feek of Joey + Rory opens up in his new memoir about meeting his wife and musical partner. 
During the awards pre-show, Rory Feek gave an emotional, tear-filled acceptance speech in which he dedicated the Grammy to his wife, Joey Feek, who passed away from cervical cancer in March 2016. 
In Rory Feek's new autobiography, This Life I Live, which was released Tuesday, the singer reflects on meeting Joey for the first time. The story goes like this: He had given his sister, Marcy, money with which to open a store. The venture was not a success, unfortunately, but Rory Feek wrote that something even better came out of it — he met Joey Feek when the business held a songwriters' night.
"I think it happened because I wasn't worrying about my dreams or my girls or finding someone," Rory Feek wrote. "I was giving. Instead of taking. For the first time, really."
The twist is that the future spouses were both dating other people at the time. Joey Feek revealed she was probably going to marry the man she was seeing, Rory Feek recalled in his book. "But she wanted to tell me that if things were different, if the timing were better, maybe she and I would be together," he wrote. 
Their entanglements didn't stop them from having an unofficial first date at a truck stop. They continued on as friends, and then, one Valentine's Day, Joey Feek phoned Rory Feek to inform him she had split up with her boyfriend. In turn, he called up the girl he was seeing and broke up with her, and the two became inseparable from that point forward. 
And now we're crying.