Virginia governor candidate Corey Stewart says Trump inspired him to "be himself"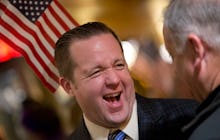 There are few ways left to make 2017 more insufferable, but miniature Donald Trump wannabes popping up in local political races across the country is probably near the top of the list.
Enter Corey Stewart: On Wednesday, the 48-year-old Republican candidate for Virginia governor told the Associated Press that Trump's election freed him and other political hopefuls to "simply be yourself."
"You can be profane," he said. "You can be politically incorrect."
Stewart was the Virginia chairman for Trump's campaign — a vicious race for the White House marked by the president's outspoken racism, misogyny and xenophobia. Trump's willingness to flout so-called "political correctness" was his most appealing quality to many voters, one that might be encouraging local GOP candidates to duplicate his tactics.
Stewart currently serves as chairman of the Prince William Board of County Supervisors. He made headlines Monday when he visited Charlottesville, Virginia, to defend the city's statue of Confederate general Robert E. Lee, which the city council had just voted to remove. Stewart was reportedly mobbed by protesters upon arrival, according to the AP.
Stewart is also an outspoken opponent of sanctuary cities that protect undocumented immigrants. 
"Sanctuary cities are a threat to our security and only protect criminal illegal immigrants," he tweeted Tuesday.
The AP's story also mentioned that former Saturday Night Live comedian and Trump supporter Joe Piscopo is reportedly considering a run for governor of New Jersey, possibly as an independent. Govs. Terry McAuliffe and Chris Christie — of Virginia and New Jersey, respectively — are leaving office in November due to term limits.
Both of these state races are seen as referendums on how broadly appealing Trump-style politics really is. If Stewart and Piscopo emerge victorious, it would suggest the brash, bigoted, controversy-laden, personality-driven style that proved a winning formula for the president is also a viable route for conservatives seeking local office.
If so, Americans can look forward to plenty of mini-Trumps throwing their hats in the political ring for years to come. God help us all.