'For Honor' players report "Requirements Not Met" and "Matchmaking Failed" error messages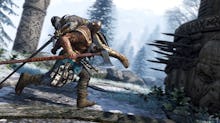 Lots of people who were excited to dive into Ubisoft's brand-new melee brawler For Honor seem to be encountering server issues that are preventing them from joining multiplayer games. The most common error messages seem to include vague language like "requirements not met," "group leader only" or, more simply, "matchmaking failed," according to reports on Reddit and the Ubisoft forums.
For Honor "requirements not met," "matchmaking failed" and "group leader only" error messages explained
It's unclear how widespread these issues are, but if Google Trends is any indicator, these issues are probably a bit more common than players might have hoped. As of Wednesday morning, the top five For Honor search terms in the "rising" section of Google Trends — which identifies new search trends that are gaining traction — all have to do with these network errors or other technical problems.
Unfortunately, these kinds of server-related issues in new online games are not unheard of. For example, Ubisoft recently delayed certain online multiplayer features for Watch Dogs 2 because of server issues.
If you encounter these networking issues, try restarting the game and restarting your modem/router to make sure the problems aren't on your end. Otherwise, you'll just have to wait for Ubisoft to smooth everything out or spend your time in the single-player campaign.
Mic has reached out to Ubisoft and will update with any response.
More For Honor news, tips, tricks and guides
Looking for more help with For Honor? Check out Mic's guides for how to parry, how to execute, how to throw, how to revive and what to expect from the game's single-player campaign.