'Ghost Recon: Wildlands' Open Beta Date: When can you sign up on PS4, Xbox One and PC?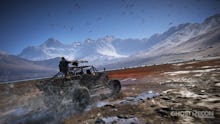 Ghost Recon: Wildlands looks to bring co-op flair to the open world stealth action of Metal Gear Solid V. With a packed release schedule over the next few weeks that includes The Legend of Zelda: Breath of the Wild and Horizon: Zero Dawn, you'd be forgiven for not knowing the latest game from Ubisoft is out shockingly soon.
The game launches on March 7, but if you want to play it before then and see if it's deserving of your open world money, you'll be able to do that soon. There's a Ghost Recon: Wildlands open beta on the way. Here's what you need to know.
Ghost Recon: Wildlands open beta coming soon
According to GameSpot, the open beta for Ghost Recon: Wildlands will come at some undetermined time before the game's March 7 launch. This was confirmed during a Ubisoft conference call, and given the success of the For Honor open beta, it's not surprising to see Ubisoft take this approach again.
Unfortunately, there is no further information regarding exact start and end times, or the contents of the beta. A closed, invite-only beta just wrapped up, so it would make some sense for the open beta to be the same slice of the game as that beta was.
Ghost Recon: Wildlands takes the signature modern military action of the Tom Clancy video game line to an open world setting in Bolivia. You'll have the option to use stealth or go in guns blazing in your quest to take down drug cartels, and each mission can be played either solo or in four-player co-op. 
To see the game in action, check out the trailer below:
More gaming news and updates
For more gaming news, check out the latest from Mic. Here's a collection of cute Overwatch-inspired Valentine's Day cards, 15 photos that compare the Nintendo Switch to the Wii U, a beginner's guide to For Honor, and a deep dive into the new trend of Nazi-punching video games.