The Nokia 3310 is coming back and it might be time to get a throwback phone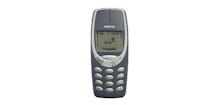 While smartphone brands are coming out with new devices featuring innovative technology, one phone maker is going a little old school. HMD Global Oy, the Finnish manufacturer that owns the rights to market the Nokia brand, is bringing back the Nokia 3310.
The Nokia 3310, which launched 17 years ago as a replacement for the Nokia 3210, will make a comeback after it was discontinued in 2005. At that time, the device had sold 126 million units and had earned the title of the world's best-selling phone, according to Nokia.
Now, a revamped version of the fan-favorite cell phone will be available to consumers in Europe and North America for around $62, which is noticeably cheaper than the $160 price tag it had in 2000 when it was originally released. The announcement will reportedly be made on Feb. 26 at the Mobile World Congress trade show in Barcelona.
The Guardian reports the classic handset was popular for its "long battery life, indestructibility and the addictive game Snake II." (No need to get the picture message-enabled device just for the game, though, as it's available for iPhone, Android and Windows phones.) As for the battery life, at the time Nokia stated its standard NiMH battery offered "4 hours and 30 minutes of talk time and up to 260 hours of standby time."
There's no word on how the new Nokia 3310 will be different. According to the Independent, the cellular device is available on Amazon and listings spotlight an array of features like a clock, calculator, the capacity to store up to 10 reminders and mobile games like Pairs II, Space Impact and Bantumi.