Laverne Cox's 'Doubt' character came from unexpected inspiration: The creators' trans son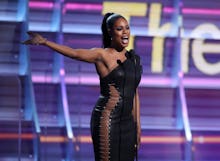 CBS' new series Doubt, premiering Wednesday night, features a rarity among its ensemble cast: a trans character played by a trans actor. Laverne Cox plays Cameron Wirth, one of the lawyers working at legal legend Isaiah Roth's firm. She's not the lead — that distinction belongs to Katherine Heigl's Sadie Ellis — but she is a fully fledged character with her own stories, love interests, complications, etc.
Post-Transparent, it feels increasingly less groundbreaking when a show features a trans character. But save a few shows like The OA or Faking It, many of those characters are still played by cis actors. Cox's Cam is one of the few characters that breaks that mold — and for creators Tony Phelan and Joan Rater, her inclusion was vital.
The showrunning pair wrote an editorial for Entertainment Weekly ahead of Doubt's premiere to explain the close-to-home inspiration behind Cam. They first figured out Sadie, and then looked at the rest of the firm. They decided "that one of the other attorneys was transgender." 
"Our son had recently told us he was transgender, so it was on our mind," they wrote.
Phelan and Rater — whose son, Tom Phelan, is an actor as well — admit to having been confused and scared upon his first coming out. Over time, however, with the help of educational articles and their son's own research, they grew accepting and loving. They had, in their own words, seen "the miracle of a person being brave enough to be their authentic self in real life."
This was the inspiration for Cam: to give viewers a chance to experience what they experienced in their life. "They could meet Cameron Wirth, as played by Laverne Cox, and fall in love with her because she's funny and smart as hell and passionate about her clients and gorgeous and needy and lonely and all the things the rest of us are," the creators wrote. "We think people are going to love Cam. And once they get to know her, her being trans won't be scary or alienating. It'll feel normal. And if we can do that, if we can broaden the idea of normal even a little bit, it'll be a good thing."
Doubt premieres on CBS Wednesday night at 10 p.m. Eastern. Read the creators' full letter here.