Senate strikes down rule that aimed to prevent mentally ill people from buying guns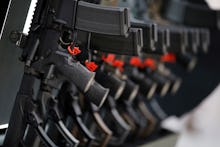 The Senate on Wednesday voted to block a rule that sought to prevent mentally ill people from purchasing guns.
Fifty-seven senators — including four Democrats and an independent — voted to undo the regulation that ensured the names of those deemed mentally incapable of handling their finances by the Social Security Administration are reported to the federal background check system.
The House voted to block the rule earlier in February, meaning the measure now heads to President Donald Trump's desk. Trump is expected to sign the measure, officially striking the rule down, according to the Associated Press.
The rule, intended to strengthen gun background check laws, was created in the final months of President Barack Obama's administration.
It was a response to mass shootings during his tenure, including the Sandy Hook Elementary School shooting in 2012.
Republicans and gun rights groups like the National Rifle Association were against the rule, saying it stigmatized mentally ill people, according to Bloomberg.
"Today's Senate vote was the next step in rolling back some of the egregious government overreach that characterized the Obama era," Chris W. Cox, executive director of the NRA, said in a statement. "Congress is reversing a last-minute, back-door gun grab that stripped law-abiding Americans of their rights without due process."
The American Civil Liberties Union was also against the rule, also saying it stigmatized the mentally ill.
"We oppose this rule because it advances and reinforces the harmful stereotype that people with mental disabilities, a vast and diverse group of citizens, are violent," the ACLU said in a statement earlier in February. "There is no data to support a connection between the need for a representative payee to manage one's Social Security disability benefits and a propensity toward gun violence."
Feb. 15, 2017, 11:51 a.m.: This story has been updated.