Trump is already detaining and trying to deport the "Dreamers" Obama said could stay in the country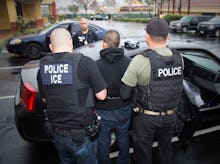 Now that Donald Trump is president, Immigration and Customs Enforcement has started to ramp up its enforcement actions. Many of the people getting swept up in deportation machine, though, are those Trump claimed would not be a priority for deportation.
On Feb. 10, ICE officials detained a 23-year-old Mexico-born man, who had lived in the U.S. since he was 7 years old, had no criminal record and was covered by former President Barack ObamaEl Paso Times reported that on Feb. 9, ICE agents entered a courthouse to detain a Texas woman who was seeking a protective order against an alleged domestic abuser.
These detentions have sent shockwaves through the immigrant rights and legal world. In the case of Daniel Ramirez Medina, the 23-year-old Dreamer, the detention is not only shocking but appeared to be a blatant violation of the Obama-era policy — a policy Trump vowed to do away with on the campaign trail but has not officially undone since taking office. On Friday, the Los Angeles Times reported that senior White House officials are exploring ways to end DACA without involving Trump. Ramirez's case illustrates one of the ways they can make that happen.
Constitutional law experts Laurence Tribe and Ted Boutrous have taken legal action to challenge Ramirez's detention.
ICE officials told Reuters that they detained Ramirez "based on his admitted gang affiliation and risk to public safety." They declined to elaborate on how they had established his links to a gang. 
"This individual was thoroughly vetted through various background examinations," Jose Magaña-Salgado, managing policy attorney at the Immigrant Legal Resource Center, said. "[The U.S. Citizenship and Immigration Services] concluded that this individual should be a low priority and granted him DACA, not only once, but twice."
In theory, Ramirez's DACA status should have helped him avoid getting caught up in the deportation machine. There's just one problem: under existing law, ICE has broad authority to determine who is and is not a priority. Without the Obama administration's oversight, that might mean a lot more deportations, even for individuals that are supposed to be protected by DACA.
"Any subcomponent [of Homeland Security] has the discretion to end deferred action under DACA because it is a discretionary determination." Magaña-Salgado said. 
Trump's Jan. 25 executive order on immigration created a new set of priorities for ICE officials to follow when determining who is and is not eligible for deportation. Those priorities are incredibly broad and ensnare any undocumented person who has ever been charged with a criminal defense.
Targets now also include any undocumented people who, "in the judgment of an immigration officer, otherwise pose a risk to public safety or national security." In other words, an individual without an actual criminal conviction can simply be declared a threat to public safety simply because an ICE officer decides they are.
"Because those priorities are so broad, it's essentially a Venn diagram that also includes DACA recipients," Magaña-Salgado said. Even under the new priorities, an immigrant can still get DACA status despite a single misdemeanor, such as littering or driving without a license. But the status wouldn't necessarily protect you from deportation: "You however are a 'priority' and, if ICE encounters you, you would likely be put into removal proceedings."
And it's not just DACA recipients who are facing new risks. 
Despite claims by the administration that they are focusing their deportation policy on "criminals," undocumented people with no criminal background are getting swept into deportation proceedings.
Bill Stock, president of American Immigration Lawyers Association, said that under current law ICE can essentially detain any undocumented person they come across in the course of their investigation, regardless of whether or not they are suspected of criminal activity. ICE can claim they are "collateral arrests" — arrests of undocumented people who just happen to be around when ICE carries out a raid.
"The headline from the raids a couple days ago was that 680 people were arrested and that 75% of those were criminals with outstanding orders, which means that 25% weren't," Stock said. 
Stock and others believes that ICE is likely using those "collateral arrests" to boost their numbers and there is evidence to support their claim. Ever since the Obama administration took action to prioritize the deportation of criminals over non-criminals ICE agents have expressed frustration over what they see as an attempt to keep them from doing their jobs.
Chris Crane, the head of ICE's union was a vocal critic of Obama's attempt to limit ICE enforcement to people who had committed crimes. "How do you tell law enforcement officers that 'You're not going to enforce the law'?" he said in a 2013 interview with the Daily Caller.
Though Trump's administration claims that they too want to prioritize criminals, senior administration officials have signaled that they want to give ICE authority to make any arrests they want.
"You cannot order a federal law enforcement officer in ICE... to ignore the laws of the United States," Trump senior policy advisor Stephen Miller said on Feb. 12 during an appearance on NBC's Meet the Press. "It would be highly unethical for me and the White House or anybody else to pick up the phone and call an ICE officer and say, 'When you account for this particular felon, we'd like you to pretend the law doesn't exist.'"
Translation: If ICE decides it wants to round up someone who is undocumented, the White House is not going to get in their way, regardless of their priority status.
"ICE is unfortunately an out-of-control agency," Magaña-Salgado said of the current situation. "We have an agency now that is essentially unbounded by any sort of directive to consider equities or ties of the individuals it encounters as a result of the collateral interactions." 
ICE's new emboldened position was made possible, in part by the spike in enforcement actions that took place in the early years of the Obama administration, prior to his executive actions offering protections to some undocumented people. "President Obama created this much more muscular deportation machine that he has now handed over to Donald Trump," Cesar Vargas, the co-director of the Dream Action Coalition and New York's first openly undocumented attorney, said. 
During his first term in office Obama significantly ramped up immigration enforcement and gave ICE new tools to cary out deportations. Only in his second term did the administration begin listening to the concerns of immigration activists who had beseeched him to stop breaking families apart — though deportations continued.
Trump, for his part, doesn't seem to be listening — and he still has the keys to Obama's powerful deportation machine.