Does the Weeknd diss Justin Bieber on his new song "Some Way"?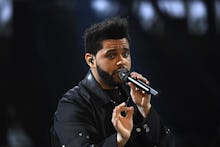 There may be a brand new beef in music — this time between Justin Bieber and the Weeknd. 
Music fans are saying the Weeknd has clapped back at Bieber on a new song called "Some Way," by an artist and producer named Nav. The Weeknd and Selena Gomez have been dating since at least January and Bieber has taken a few jabs at the Weeknd since the news got out about his ex-girlfriend's new guy. 
The Weeknd doesn't mention names in the lyrics below, via Genius, but on the hook of the song, he definitely takes aim at someone who is upset about the woman he's currently with.
"Oh yeah, yeah, I just hit a lick and I know you feelin' some way
The lyrics come after Bieber made at least two public comments about The Weeknd recently.
A few days ago, while answering fan questions on Instagram Live, Bieber said his favorite song was "Starboy" by The Weeknd. He and a friend, who was in the video with Bieber, began laughing after the comment was made. The clip can be seen below:
In January, Bieber had been tracked down by TMZ, which asked him if he listens to the Weeknd. 
"Hell no, I can't listen to a Weeknd song!" Bieber said. "That shit is whack."
After "Some Way" was released Tuesday night, people on Twitter began picking up on the lyrics and feeding into the possible beef as well. Check out some of the tweets below:
Bieber has not responded yet, but since he likes mentioning the Weeknd, this new song may give Bieber something else to talk about.
Mic has ongoing coverage of the Weeknd. Please follow our main The Weeknd hub here.