Kim Jong Nam Death: Suspect arrested in reported assassination of Kim Jong Un's brother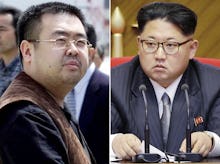 Malaysian police on Wednesday arrested a woman suspected of poisoning North Korean Supreme Leader Kim Jong Un's older half-brother, Kim Jong Nam. 
According to BBC, 28-year-old Doan Thi Huong was arrested at the Kuala Lumpur International Airport, the scene of the crime, carrying "a Vietnamese travel document." Security footage from the airport shows a woman, reportedly Huong, wearing a sweatshirt with "LOL" printed across the front in big black letters. Initial reports out of South Korea said that two women were believed to have poisoned Kim Jong Nam in the airport on Monday. 
Authorities are still waiting on autopsy reports to confirm the cause of death, but as BBC reported, North Korea is demanding the body's immediate return. Malaysian police, however, have not yet said that the deceased is definitely Kim Jong Nam — the 46-year-old man who died en route from the airport to the hospital Monday was carrying a passport under the nam Kim Chol. 
Fadzil Ahmat, a Malaysian police official, told Reuters that "the deceased ... felt like someone grabbed or held his face from behind."
"He felt dizzy, so he asked for help at the ... counter of KLIA," Ahmat said. 
U.S. government sources told Reuters that the assailant or assailants may have used a "poison pen" in the attack, while South Korea media reported that two women had used a needle to poison him, citing multiple South Korean government sources.
Kim Jong Nam was expected to take over North Korea's dynastic line until 2001, when he was busted using a forged Dominican Republic passport in a Tokyo airport, reportedly on his way to Tokyo Disneyland. Japan deported Kim Jong Nam to China, and he continued to live in the Chinese administrative region of Macau for over a decade, more or less in exile.
Kim Jong Nam was publicly critical of the dynastic succession, telling reporters in 2010 that he was "opposed to the hereditary transfer to a third generation of the family." When he reportedly left Macau in 2012, he did so out of fear for his own safety, according to the Telegraph — North Korea had reportedly commissioned a number of attempts on his life. Kim Jong Nam traveled frequently thereafter, and had reportedly been seen in an upscale Macau hotel a little over a week ago.
According to the BBC, sources in the U.S. government believe the attack to have been commissioned by North Korea, although there is no concrete evidence available yet to confirm that theory.