'Bates Motel' season 5 premiere photos have been released and they're super disturbing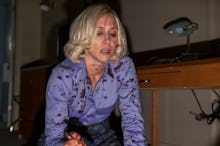 Bates Motel is about to start its fifth and final season, and judging by the photos from the show's premiere, it looks like we're in for a creepy ride. 
Season five of the hit A&E drama, which serves as a prequel to Alfred Hitchcock's Psycho, is set to premiere on Monday, Feb. 20 at 10 p.m. Eastern. Vera Farmiga stars as Norma Bates and Freddie Highmore plays Norman Bates. 
From the looks of the pictures from the first episode of the final season, titled "Dark Paradise," it's a bloody affair for Norman. 
The final season of the drama will consist of 10 episodes. Kerry Ehrin, the showrunner for the series, told Yahoo TV that this season is more of a comedy. "It's, in a way, the funniest season yet, with the most dark comedy. I would say it still somehow manages to be weirdly life-affirming," she said. 
This season, Rihanna is the show's special guest star, playing Marion Crane. The iconic character is played by Janet Leigh in the 1960 film, and, well, we hope Rihanna has her scream queen scream ready to go. 
Ehrin spilled on Rihanna's guest role on this season, saying the "Needed Me" singer delivered. "She was an incredibly sweet and hard-working person, and we couldn't be more thrilled," Ehrin said. 
Season four ended with the death of Norma, of course, as the series was always meant to lead up to the events of the film. In season five, the show will explore Norma inside Norman's head and his transformation. 
"It will be re-establishing new rules and lots of that is going to take place in Norman's mind because Norma is actually dead, but to him she's not. So how that manifests itself throughout the whole season is incredibly exciting," Highmore teased the new season to GoldDerby. 
With Rihanna stepping in as Crane, the show will finally veer into full-on Psycho territory. "The episodes that she's in were very much designed to be like a collision between Psycho and Bates Motel, and, really, it's the first and only time we've ever truly stepped into Psycho," Ehrin revealed. 
The final season of Bates Motel begins on Monday, Feb. 20 at 10 p.m. Eastern on A&E. 
Mic has ongoing TV coverage. Please follow our main TV hub here.