Designer Philipp Plein responds to Alexander Wang's accusations of copying his runway show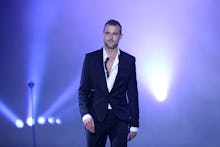 Wednesday morning, Mic reported on a bubbling fashion feud between two young designers, Alexander Wang and Philipp Plein.
To review: On Tuesday night, Wang sent a pointed message to New York Fashion Week newcomer Philipp Plein, using a viral meme to not-so-subtly accuse Plein of copying his runway show.
According to the show's art director, Simon Costin, the side-by-side videos posted by Wang are misleading. 
"The whole set was a gigantic gym and they chose a picture that's very dark from when the show had just started," Costin said, providing the below photo as evidence. "I find the whole thing quite strange."
Now, Plein is finally breaking his silence in an exclusive interview with Mic:
Mic: What did you think when you saw Wang's post on Tuesday?
Philipp Plein: I don't know why Mr. Wang did that last night. The show he was talking about took place in January during Men's Fashion Week — so it's quite a while ago. It was circulated everywhere; seen everywhere. I don't know what his intention was to post it after our show in New York. I found it a bit desperate to [have this statement] come after one month. Mr. Wang is definitely one of the most important shows here in New York. And I have the feeling a little bit that the attention we have achieved last Monday must somehow have offended him in a bad way which I don't understand why.
Do you see any similarities with the show? 
PP: I have to admit, it really looks like there is a similarity. Really, a lot of similarities. I would, let's say, as an independent person, get the sensation that "Oh this motherfucker Philipp Plein copied the show." I would completely agree with that. But this was not the case at all.
Honestly speaking there was never the interest to give anyone the sense that we are a copycat or trying to copy someone. It's much more the contrary. Why should I copy something? We have so much creativity and ideas in-house. And that's what we are famous for: doing our things our way.
Is this water under the bridge? 
PP: We apologize. We never wanted to give anyone the sensation that we are a copycat. I think it's more a political thing what happened here. If it really bothered him a month ago, why didn't he say something then? He could have called me, he could have written me an email. I think he public should decide. If you give the public the chance to see my show and his show, the styling, the clothes, everything, then the people can decide. That would be fair.
Have you spoken to Wang directly or do you plan to? 
PP: I would like to invite him to my next show, if he could come and have a look at the show. I'm not here to make competition, I'm here to make my thing and make people happy and I think that i what fashion is about.
The interview has been condensed and edited for clarity.