Trump answered a question on anti-Semitism by bragging about his election win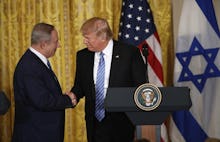 At a news conference with Israeli Prime Minister Benjamin Netanyahu Wednesday, President Donald Trump fielded a blunt question about a rise in anti-Semitism since his campaign and election.
Trump's response: A self-congratulatory spiel about his Electoral College win — and a little shoutout to his Jewish son-in-law, daughter and grandkids.
Trump has been called out for stacking his cabinet with men who have questionable histories on tolerance, notably former Breitbart boss Steve Bannon.
"I just want to say that we are very honored by the victory that we had: 306 Electoral College votes," Trump said as an opener to his response.
"We were not supposed to crack 220," he continued as Netanyahu looked on. "You know that, right? There was no way to 221, but then they said there's no way to 270. And there's tremendous enthusiasm out there."
Trump quickly switched tacks, saying he'd fight crime and "long-simmering racism and every other thing that's going on."
Then it was family time.
"As far as people, Jewish people: So many friends, a daughter who happens to be here right now, a son-in-law and three beautiful grandchildren," the president said, referring to his son-in-law Jared Kushner, an Orthodox Jew and top White House adviser; his daughter Ivanka Trump, who converted to Judaism; and their kids. 
"I think that you're going to see a lot different United States of America over the next three, four or eight years," he wrapped up. "I think a lot of good things are happening and you're going to see a lot of love. You're going to see a lot of love. OK?"
The arguable non-response to the original question about a spike in anti-Semitic incidents during his drive to the presidency left Twitter somewhere between baffled, amused and disgusted.
"Troubling that @POTUS failed to condemn real issue of anti-Semitism in U.S. today," the Anti-Defamation League tweeted.
"Asked about rise in anti-Semitism in U.S. since his election, in Netanyahu's presence, Trump says... NOTHING about anti-Semitism," chimed in Dan Shapiro, former U.S. ambassador to Israel.
Even Canada, whose prime minister just met with Trump, got in on the act:
For his part, Netanyahu stuck up for the leader of the free world.
"There is no greater supporter of the Jewish people and the Jewish state," the Israeli leader said of Trump. "I think we should put that to rest."