Metallica, Lady Gaga may have a collaborative album in the works to build on their Grammy chemistry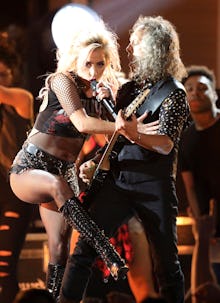 Despite its technical difficulties, Metallica and Lady Gaga's performance at the Grammys still turned out one of the most unexpectedly entertaining moments of the whole show. Gaga's head-banging and crowd surfing seemed a natural expression of the inner metalhead she's long held at bay and offered a solid mezzo-soprano foil to Metallica singer James Hetfield's growl.
It seems Metallica were big fans of the energy she brought to their music. In a recent interview with Rolling Stone, drummer Lars Ulrich called Gaga the "quintessential perfect fifth member of this band." 
"Her voice, her attitude, her outlook on everything is so awesome," Ulrich said. "[The performance] was so effortless and organic, and she just has the spirit of hard rock and metal flowing through her veins. It comes really easy for her. There's nothing contrived; she just has this super warm, easy energy."
We may soon be enjoying a lot more heavy metal Gaga in the near future.
"We already started fast-forwarding to the next chapter when we can do more of this," he said. "It's not one of those '20 lawyers, strategists and managers trying to force two people from two different worlds to figure out how to spend four minutes together on a national telecast.' Of any of these undertakings, this is about as organic and authentic as there's ever been one. We're just getting started."
According to an interview with the A.V. Club, the band hasn't started writing "songs for a record or anything," but that it "was so seamless and so authentic and such a natural fit that the idea of revisiting this at some point down the road" was something they were considering. 
Apparently Gaga told him: "We gotta do something again together. This is just too good to leave."
The pop star has yet to offer her thoughts on the potential collaboration in an interview, but judging by the sentiments she's offered about wanting to introduce metal to a wider audience, chances are she'd be game.
"Some people really don't know the importance of metal and the scope of it," Gaga said to CF Fashion Book about her metal admiration, specifically highlighting British metal band Iron Maiden: "Those guys were filling stadiums, and they still are. And it's because of the culture of the music, the poetry that's so powerful. 
"I always used to say to people, when they would say, 'Oh, she's the next Madonna.' — No, I'm the next Iron Maiden."
A Metallica collaborative album would take several steps closer to that goal.
Fans of Sunday's performance should stay tuned.
Mic has ongoing music and Grammys coverage. Visit our main music hub and follow Grammys hub here.