The women's strike officially has a date — and it's March 8, International Women's Day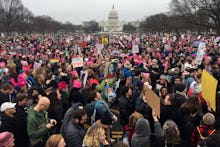 Following the raucous success of the Women's March, organizers almost immediately began planning their next action — a general strike for women across the country.
On Feb. 6, the Women's March official Twitter account announced "A Day Without a Woman" with a to-be-determined date. Now organizers have sealed the deal: Women will stay home from work, abstain from housework and cease performing emotional labor on March 8 — International Women's Day.
"Some women talk about housework and cleaning, but the span of work is vast," National Women's Liberation organizer Erin Mahoney told Mic's Jack Smith IV in a January interview. "It goes from women striking from fake smiles, to emotional work in their relationships and communities — making everything flow invisibly, making sure everyone's feeling OK and boosting male egos."
Organizers said they would release more information in the coming days on alternative actions women can take on March 8. They also called on women to start brainstorming their own daily acts of resistance with friends and family, reminding that there's a long road ahead for Americans resisting the current administration. 
"We saw what happened when millions of us stood together," organizers wrote in a tweet. "We know that our army of love greatly outnumbers the army of fear, greed and hatred."