Donald Trump drops longstanding US insistence on Israeli-Palestinian two-state solution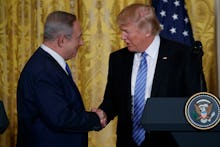 President Donald Trump said Wednesday that a two-state solution is not the be-all and end-all when it comes to brokering a peace deal between Israelis and Palestinians, backing away from a policy the United States has pushed for decades. 
"I'm happy with the one they like the best," Trump said during a press conference with Israeli Prime Minister Benjamin Netanyahu, referring to Israeli and Palestinian aspirations.
A two-state solution — which would create an independent Palestinian state west of the Jordan River alongside a Jewish state of Israel — has been the United States' policy since President Bill Clinton was in office.
"If, and as long as between the Jordan and the sea, there is only one political entity, named Israel, it will end up being either non-Jewish or non-democratic," former Israeli Prime Minister Ehud Barak said in 2010. "If the Palestinians vote in elections, it is a binational state, and if they don't, it is an apartheid state."
Trump's retreat from a two-state solution led to an outcry from Democratic lawmakers.
"Does @RealDonaldTrump even understand that a one-state solution means Israel will have to give up either its Jewish or Democratic character?" Rep. Jerry Nadler (D-N.Y.) tweeted.
"Just when we thought it couldn't get worse or more chaotic, Trump considers one-state solution--which is no solution at all," Rep. Earl Blumenauer (D-Ore.) tweeted.