'Hearthstone' Balance Changes, Nerfs and Patch Notes: Update 7.1 aims to mix up the meta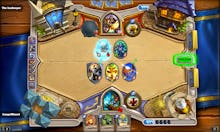 A new patch is on its way to Blizzard's card-battler Hearthstone. The update appears to focus on mixing up a meta that's grown stale, hoping to encourage some new strategies and make experimentation a little less risky in Ranked Play.
Unfortunately, if you've been relying on those well-established strategies — like the Small-Time Buccaneer and Patches the Pirate combo — you might not be quite as thrilled about the nerfs included in patch 7.1.
Here's what you can expect from the new Hearthstone update.
Hearthstone Update 7.1 Patch Notes: Nerfs to the Small-Time Buccaneer/Pirate combo and Spirit Claws
In an update that should arrive before the end of February, Small-Time Buccaneer will have its health reduced from two to one, according to a post on Blizzard's forums.
"The combination of Small-Time Buccaneer and Patches the Pirate has been showing up too often in the meta," the post read. "Weapon-utilizing classes have been heavily utilizing this combination of cards, especially Shaman, and we'd like to see more diversity in the meta overall."
In a similar effort to mix up an overused strategy, the patch will increase the cost of Spirit Claws to two mana, up from its current cost of one.
"Spirit Claws has been a notably powerful Shaman weapon," the post read. "At one mana, Spirit Claws has been able to capitalize on cards such as Bloodmage Thalnos or the Shaman Hero power to provide extremely efficient minion removal on curve. Increasing its mana by one will slow down Spirit Claws' ability to curve out as efficiently."
Hearthstone Patch 7.1: Additional Ranked Play floors
The other major update in upcoming patch 7.1 is the addition of several "floors" in Ranked Play at levels 5, 10 and 15. Once your skill level reaches one of these floors — in addition to the already existing floors at 20 and Legend — you can no longer de-rank below that level for the remainder of the season, regardless of how many losses you incur.
Blizzard hopes "this promotes additional deck experimentation between ranks, and that any losses that may occur feel less punishing."
If there's anything new in the full patch notes, we'll let you know.
More gaming news and updates
For more gaming news, check out the latest from Mic. Here's an explanation of the new berry types making their way into Pokémon Go, a quick look at the four new characters in Fire Emblem Heroes, a visual comparison of the Wii U and the Nintendo Switch and deep dive into the latest Overwatch Doomfist rumor.