Kanye and Drake new song: "Lost Hills" debut at Yeezy Season 5 just a rumor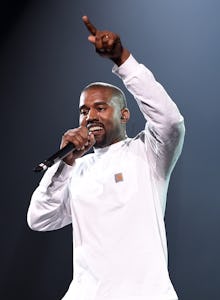 A long-awaited hip-hop collaboration was thought to see the light of day on Wednesday.
Speculation about a new Kanye West and Drake song called "Lost Hills" was rumored to debut at West's Yeezy Season 5 show at New York Fashion Week. Fans waited for confirmation of the new music, but it never came. Instead, the venue reportedly played The-Dream's demo version of J. Holiday's "Bed" on repeat.
Kanye West began teasing the possibility of new music a few days before his show. GQ style writer Jake Woolf tweeted out an invitation featuring the title "Lost Hills," Drake's name and the date of the Yeezy fashion show.
Lost Hills is a town located in Kern County, California. A Yeezy Season 5 model sported the name on the back of a jacket; other California locations, like Calabasas and Agoura, were also featured on the piece of clothing.
If Kanye did debut a new song, it wouldn't have been the first time he used his fashion line to do it. In 2016 at Madison Square Garden, he hosted and livestreamed a massive fashion show for Yeezy Season 3, which doubled as a listening session for his album The Life of Pablo.
West and Drake have discussed an album collaboration for months now. West revealed to Vogue in September the release would be coming soon, but gave no date for it. 
"We're just working on music, working on a bunch of music together, just having fun going into the studio," West said. "We're working on an album, so there's some exciting things coming up soon." 
West previously lent several bars to Drake's "Pop Style," also featuring Jay Z.  
Mic has ongoing coverage of Kanye West. Please follow our main Kanye West hub here.