Day Without Immigrants protest inspires restaurants across the country to halt service Thursday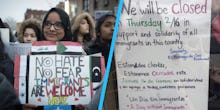 When then presidential candidate Donald Trump started spewing his anti-immigrant rhetoric, restaurateurs and chefs were some of the first to speak out about the damage deportations and stricter immigrant vetting laws would have on restaurants. 
In 2015, almost a year before the presidential election, Anthony Bourdain told SiriusXM's Stand Up! With Pete Dominick that undocumented workers and immigrants are the "backbone of the [restaurant] industry": 
I grew up in the restaurant business — 30 years in the restaurant business. I came out of, like a lot of other white kids, I rolled out of a prestigious culinary institute and went to work in real restaurants. I walked into restaurants and always, the person who had been there the longest, who took the time to show me how it was done, was always Mexican or Central American. The backbone of the industry — meaning most of the people in my experience cooking, preparing your food. Twenty of those years in this business I was an employer, I was a manager employer. Never, in any of those years, not once, did anyone walk into my restaurant — any American-born kid — walk into my restaurant and say I'd like a job as a night porter or a dishwasher. Even a prep cook — few and far between. Just not willing to start at the bottom like that.
This past December, Bourdain also made it clear that he will not eat at any of President Donald Trump's restaurants, though it's hard to imagine that Bourdain ever patronized the Trump Grill for its signature taco bowls.
Trump's expansive portfolio of properties and restaurants, as well as his kid's business ventures, have been a point of contention since before he was elected president, perhaps iconicized in the food world by a very public feud breaking out in 2015 between Trump and chef José Andres. After Trump's now infamous remarks about Mexican immigrants, the Spanish chef pulled out of the restaurant he was contracted to build at Trump's new D.C. hotel. Trump slapped Andrés' restaurant group, Think Food Group, with a $10 million lawsuit, to which Adrés retaliated with an $8 million lawsuit, which still persists, despite Andrés charitable offers to end the whole ordeal.
As more restaurateurs and chefs speak out against the Trump White House (celebrity chef Geoffrey Zakarian also pulled out of Trump Hotel deal), the culture and privilege of dining out has become inseparable with issues regarding immigration reform.
Following suit, a planned Thursday protest, entitled A Day Without Immigrants, will leave plenty of food service establishments and hospitality businesses unstaffed by the immigrants who help these institutions run on a day-to-day basis, painting a sad picture of what America would look like without an immigrant work force. 
And while cutting work on a Thursday may not be encouraged in some industries, the food community is rallying behind their immigrant workers. 
On Tuesday, Andrés tweeted he would be closing his restaurants Jaleo, Oyamel and Zaytinya on Thursday. 
Andrés was unavailable for comment, but a spokesperson from Think Food Group noted the restaurant closures are "in solidarity with the many immigrants on our staff who are passionate about participating in A Day Without Immigrants." While most of the group's D.C. area restaurants will be closed, China Chilcano, minibar/barmini and all locations of Beefsteak will remain open Thursday and will be staffed by a collective team from all of Think Food Group's D.C. area restaurants, "so that we can continue to both serve our guests as well as provide for those of our staff who plan to work that day." 
Boundary Stone, another D.C.-area restaurant, will stay open, though immigrant workers will have a paid day off to protest while owner Colin McDonough flips burgers in their absence, he told the Washington Post. 
Many more D.C. restaurants are planning to close or curtail service, including Sweetgreen, the popular D.C. salad chain known for long lunchtime lines and not-so-cheap prices. 
The salad chain emailed its D.C. clientele that it will be closing all 18 of its area restaurants in support of A Day Without Immigrants. "To our customers who rely on their daily Kale Caesar, we hope you'll support our family too," the email reads. "Our diversity is what makes our family great, and we respect our team members' right to exercise their voice in our democracy."
A Sweetgreen representative confirmed that Thursday will be a paid day off for its restaurant employees.
Restaurants outside of D.C. are rallying, too
Beyond the nation's capitol, restaurants have announced their solidarity closing across the country. In response to the restaurant closings in Austin, Texas, Mayor Steve Adler told the Austin American-Statesman, "This is a country of immigrants and a city of immigrants, and I love it when we stick up for each other here." 
Some restaurants that have decided not to close Thursday are cooking up their own ways to support the protest. Brickwall Tavern in Asbury Park, New Jersey, will support the entire back of house staff planning not to work on Thursday by paying their regular wages and having the front of house staff cook a limited menu. 
Mark Hinchliffe, junior partner of Smith, which owns and operates Brickwall, said in an emailed statement, "Supporting our team members' lives is at the very core of Smith. We are one family. And when part of our family is affected, we are all affected. We have each other's back, and because of that, we are unstoppable."
Other restaurant groups, however, decided that closing their restaurants was a moral responsibility. 
In New York City, Blue Ribbon will close seven restaurants in its group. 
"When employees who haven't missed a day of work in nearly 25 years come to you and ask for a day off to march against injustice, the answer is easy," Ken Bromberg, who co-owns Blue Ribbon Restaurants with brothers Bruce and Eric Bromberg, said via email. "[Immigrants] helped build our business. They are our business, they are our family, and we stand together."
Bromberg acknowledged that his business projects a major loss in profits due to Thursday closures, but said "that is not what this is about," referencing the poem by Martin Niemöller, "First They Came."
Following in the footsteps of José Andrés, Blue Ribbon announced its formal closure to employees on Tuesday night. "When we announced last night that we would be closing, everyone cheered — non-immigrants and immigrants alike," Bromberg said. "Those who are immigrants appreciated our support, and those born in the U.S. were happy and proud to support their co-workers."
And while Latino immigrants are often cited as restaurant employees, immigrants from all over the world work in American restaurants. Ajay Walia, an immigrant from India who runs the only Michelin-starred Indian restaurant in the West Coast, Rasa Contemporary Indian and its sister restaurant, Saffron Indian Bistro, will be closing both of his Bay Area restaurants. 
"In solidarity with the immigrants across the nation and to share how important immigrants are to our community, both Rasa and Saffron will be closed February 16," Walia said in an emailed statement, hoping this "vital message" will urge additional West Coast restaurants to do the same.
Feb. 17, 2017, 12:19 p.m.: This story has been updated.
Correction: Feb. 17, 2017