'NBA 2K17' MyTEAM Locker Codes: Chasing Pink Diamond Kevin Love and Diamond Paul George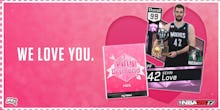 The latest Pink Diamond card for NBA 2K17's MyTEAM mode was released on Valentine's Day. It was an aptly scheduled release as the subject of the card is Cleveland Cavaliers all-star power forward Kevin Love. Here's everything you need to know about the relevant NBA 2K17 MyTEAM locker codes.
NBA 2K17 MyTEAM locker codes: Kevin Love Pink Diamond Card
As is the case with all of the PD cards, Love is rated a 99 overall. His rebounding and three-point shooting are his biggest attributes. He has a 92 rating in open three-point shot and contested three-point shooting. All of his rebounding attributes are set at 97. There's no question Love could solidify any MyTEAM lineup with his inside-outside game.
Getting this card isn't going to be easy. He's only available through a timed MyTEAM locker code promotion. Limited quantities are available with each release of a locker code, so fans have to hustle to grab one of the Love cards.
The last release took place at 3:01 a.m. Eastern time on Feb. 15. However, the tweet below from the NBA 2K account indicates there will be another release coming up.
To have a chance to get the card, you have to follow NBA 2K on Twitter, and input the locker code in your game while supplies last. You might want to set a notification alert for new tweets so you can get the jump on other players.
NBA 2K17 MyTEAM locker codes: Paul George Diamond Card for hardcore fans
As a gift to hardcore NBA 2K fans, 2K offered this Diamond Paul George. The card is only rated an 86, but his 88 open three-point shot rating plus his athleticism can still add a boost to your team.
To get the Diamond George, you just need to input the code located here. It expires on Feb. 28. If you're new to MyTEAM, this is a good start to help get your team started.
More sports gaming news and updates
Are you a sports gamer? Check out more content from Mic, including news on EA Sports' 2017 plans for titles like NBA Live 18 and EA Sports UFC 3. There's also details on RBI Baseball 17, and the latest patch notes on WWE 2K17's 1.06 update.