Former Bush ethics lawyer: Trump's Russia scandal is far worse than Watergate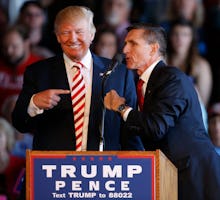 If veteran news anchor Dan Rather thinks President Donald Trump's Russia scandal is a "5 or 6" on a scale of 0 to Watergate, former George W. Bush ethics lawyer Richard Painter thinks it's far worse.
"This is a heck of a lot bigger deal than what initially happened in Watergate," said Painter, a conservative-leaning constitutional lawyer who served for two years in Bush's White House Counsel office. "This is a 10 right out of the starting gate because it involves our national security and a foreign power."
On Tuesday, the New York Times published an explosive report alleging multiple members of Trump's presidential campaign had contact with senior Russian intelligence officials in the year ahead of the election. The report came just one day after Trump national security adviser Michael Flynn resigned when it was revealed that he spoke with the Russian ambassador about lifting sanctions on Russia in late December.
Painter, who now serves as a University of Minnesota Law School professor, said the country may be barreling toward a constitutional crisis unparalleled in its history.
"We're talking about a foreign government breaking into people's computers and stealing information in an attempt to destabilize the United States," Painter said. "We need to get to the bottom of it."
"[We need to find out] what people inside the Trump campaign and the Trump administration knew and whether there was cooperation," he added.
In the wake of the Watergate scandal, President Richard Nixon tried to cover up the incident rather than find and fire those responsible. If Trump is to avoid a similar fate as Nixon, he's going to have to cooperate with a congressional investigation to get to the bottom of who in his administration may be compromised, Painter said.
"[The Trump administration] could de-escalate this and make it less of a big deal than Watergate if they don't cover it up," Painter said. "Full disclosure is absolutely critical." 
"The real issue is [whether we] are going to do a better job dealing with it. Instead of covering it up, [will we] put all his cards on the table, investigate and find out what's going on in the Trump administration?"
Painter was clear to note that he was "not throwing allegations around about the president or anybody else." But he emphasized the importance of putting politics aside and launching a bipartisan congressional investigation in order to determine which parts of the U.S. government had been compromised by Russian interference.
"We need all hands on deck — Democrats, Republicans and the intelligence community," he said. "Let's get all the information out so we can assure the American people that our president is not subject to blackmail from the Russians."
As for the allegations that emerged in January from an uncorroborated memo published by BuzzFeed suggesting Trump may have engaged in explicit sexual behavior during a visit to Russia, Painter encouraged the president to be transparent and put his dealings with Russia out in the open.
"If the Russians have something on Trump — a picture of him in a hotel room with a bunch of whores — fine, just get it out," Painter said. "We all know he's been running around doing all sorts of stuff. We're a lot safer as a country [for him to make it public information] rather than having it cooped up for four years and Putin's got something over [Trump's] head every time he wants to put a missile somewhere."