'For Honor' Mythic Outfits: Mythic outfit effects for Samurai, Vikings and Knights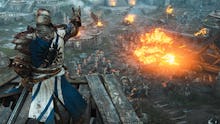 Yeah, yeah, yeah, playing For Honor is all about learning how to fight effectively, counter guard breaks and execute your enemies. But everyone knows what's really the most important part of the game: The cool unlockable outfits. 
In For Honor, the slickest looks you can unlock are the mythic outfits, which give your characters an extra effect based on which faction you're in. If you're worried they'll be too overwhelming, these effects only trigger when you emote or execute an enemy, as you can see in this YouTube video from Arekkz Gaming. 
We've rounded up the effect for each faction's mythic-tier outfit in For Honor is below. Let's dive in.
For Honor Mythic Outfits: Samurai
The Samurai faction gets a cool, relatively understated cherry blossom effect.
For Honor Mythic Outfits: Knights
The mythic outfits give the Knight faction a flaming wing effect.
For Honor Mythic Outfits: Vikings
The mythic outfits for Vikings give them a subtle, Thor-like lightning effect.
These mythic outfits cost a whopping 45,000 steel to unlock for each faction. If you want to unlock outfits across multiple factions, you can also buy packs for 36,000 steel that unlock mythic outfits for the units of the same type across all three factions. For example, there's a pack for the assassin-type units, which include the Peacekeeper, Berserker and Orochi.
Either way, you're gonna drop a lot of dough, so start racking up that steel as soon as possible.
More For Honor tips, tricks and guides
Looking for more help with the For Honor open beta? Check out Mic's guides for how to parry, how to execute, how to throw, how to revive and what to expect from the game's single-player campaign.