'Bon Appetit' awards LA's healthy food scene, overlooking that 1.5M are food insecure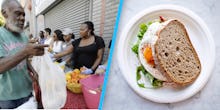 Those looking for a great place to eat healthy need look no further than Los Angeles — if they can afford it. 
On Monday, Bon Appetit named Los Angeles the "most healthyish city in America" for its array of avocado-laden and heavily vegan menus throughout the city. 
"Whatever other insults you want to lob at Los Angeles ... the truth is that this town has healthy yet insanely delicious food in the bag," Bon Appetit wrote. Among the 11 eateries profiled by the magazine include places that serve beet-sumac sodas and turmeric poached eggs. 
While the list is a nice menagerie of culinary hotspots, boasting about actors and actresses maintaining bodies like Jessica Alba's seems a little disconnected from the reality of what so many face when it comes to food in Los Angeles. 
Food deserts across Tinsletown
According to the USDA, Los Angeles has several areas that would be considered food deserts, or areas where people lack access to fresh foods. While more wealthy areas in LA, like Beverly Hills, don't have any food deserts, places like East Los Angeles, Inglewood, Compton and Bell Gardens have quite a few. 
As local affiliate KCET pointed out, those areas of the city that contain food deserts are also the parts where obesity rates spike, because rather than access to fresh fruits and vegetables, residents in these areas can more easily access fast food or nutrient-void ingredients. 
The biggest impediment to obtaining food is actually structural racism. According to the 2012 study "Unshared Bounty," black Americans are half as likely to have access to fresh, healthy foods and Latinos are about a third as likely to have similar access. Additionally, black, Latino and Native Americans living in low-income, minority communities have to travel farther and pay more for groceries. On average, grocery stores in these communities are also 2.5 times smaller than those in high-income communities. 
Los Angeles county is home to the largest population of food-insecure people in the U.S, according to a 2015 study from Feeding America, the nation's largest domestic hunger-relief organization. Just under 1.5 million people, or 14.7% of the population, are considered food insecure, or lacking access to healthy food, at any time in LA. Nearly 600,000 children, or 1 in 4 children in LA, experience food insecurity. 
Celebrating LA's mouthwatering food scene, complete with cocktails and appetizers that creep way beyond double digits in price, doesn't exactly fit a broad definition of healthy. Sure, it's healthy for the wealthy, but to label LA as having a healthy food scene and ignoring pretty widespread lack of access to health food is a dash irresponsible. If LA is the most "healthyish" city, that's light on the healthy and heavy on the "ish." 
No amount of high-end restaurants can replace the necessity of a grocery store with a good selection of fresh fruits and vegetables. So, while LA might have an ample selection of healthy menus, due to the structural racism behind food deserts, it might have some of the least healthy people.
This isn't the first time Bon Appetit has revealed a blindspot for racial issues. In September, the food publication caught heat when they released a video of a white chef explaining the (only) proper way to eat Vietnamese pho. 
.