Lady Gaga, Britney Spears and more just signed a letter condemning a Texas bathroom bill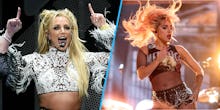 Lady Gaga and Britney Spears have their eyes on Texas. 
The two pop superstars joined a list of over 140 entertainers — including Sia, Ariana Grande and Alicia Keys — who signed a letter to Texas legislators opposing proposed anti-trans bathroom bills floating in the Texas legislature. The letter, part of the #TXTogether campaign, was put together by Equality Texas. 
Spears and other signees said they were "deeply troubled" by SB6 and HB1362, which they called a "denial of basic human dignity." Both bills would force people to use restrooms that match their gender assigned at birth rather than their gender identity. 
"Bills like these are poison, a barrier between Texas and its future," the letter reads. "Can you imagine the message these bills send to children — the message of 'that child is unwelcome, that child is dangerous?'" 
The stars ended the letter by calling for legislators to ensure their fans, crews and fellow artists feel comfortable and welcome in Texas. 
Over the weekend, the NFL warned Texas that it does not tolerate discrimination. 
"The NFL embraces inclusiveness," spokesman Brian McCarthy said in an email to the Houston Chronicle. "We want all fans to feel welcomed at our events, and NFL policies prohibit discrimination based on age, gender, race, religion, sexual orientation or any other improper standard."
According to the Washington Post, the NFL warning should be taken seriously. The NFL moved the 1993 Super Bowl from Arizona in 1990 because the state would not recognize Martin Luther King Jr.'s birthday as a holiday. They considered a ban again in 2014, when the state considered a religious freedom bill. 
The effects of these religious freedom bills and legislation like North Carolina's HB2, which in part limited trans people's access to the bathrooms that match their gender identity, can leave lasting impacts on the economy. Several companies, including Paypal, either pulled out of North Carolina or chose not to open offices there. The legislature's inability to repeal the bill was even more baffling given the dire economic consequences.