ICE agents detain domestic violence victim in courtroom where she was seeking protection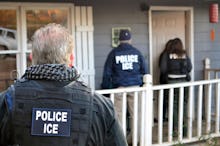 Federal immigration agents arrested an undocumented woman last week in the Texas courthouse where she was seeking a protective order against her alleged domestic abuser, the El Paso Times reports.
According to the El Paso Times, the woman in question was detained on Feb. 9 after officers received her name via a tip line from an unidentified source, likely her alleged abuser. The news comes amid ramped up deportation efforts across the United States at the behest of President Donald Trump.
The woman's arrest has rattled residents of El Paso County, who fear that it will scare other undocumented victims away from seeking legal protection. El Paso County Attorney Jo Anne Bernal told the El Paso Times that while her office is always willing to comply with requests from federal authorities, deportations should not be happening in protective order courts.
"Our clients come to us at the lowest point in their lives," she said. "Many of them are so frightened of coming to us because of possible immigration concerns."
According to 65th District Judge Yahara Lisa Gutierrez, who oversees the court that granted the woman's protective order, it's not uncommon for abusers to report or threaten to report undocumented partners to Immigration and Customs Enforcement agents as a means of control. She said that the federal agents should avoid becoming complicit in those abuse tactics.
"There's no place for that — especially in family court," she said.
The incident further raises scrutiny over who ICE officers are permitted to target for deportation under Trump. On Feb. 10, a 23-year-old man who was granted protection under Obama's Deferred Action for Childhood Arrivals, or DACA, program, was seized by agents in what some immigration rights activists believe is an unprecedented act.
"This is a clear violation of his rights," said Mark Rosenbaum, one of the lawyers on the man's case, told the New York Times. "There was a solemn promise from the executive branch that they would be protected. People have staked their lives and well-being on that promise."
Bernal, whose office does not inquire about abuse victims' citizenship, said she is working to ensure that the woman's arrest doesn't result in fewer victims coming forward to report their abuse.
"We will do everything in our power to get them the protection they need," she said. "We are hopeful that this is an isolated incident and that this never happens again."