The number of anti-Muslim hate groups in the United States more than tripled in 2016, SPLC says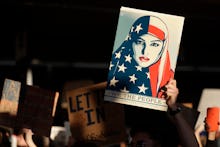 On Wednesday, the Southern Poverty Law Center released a new report revealing that hate groups — specifically, anti-Muslim groups — grew exponentially in 2016.
The Intelligence Report found a total of 917 established hate groups in 2016, a slight uptick from 2015 when there were 892 such groups. However, the number of anti-Muslim hate groups more than tripled, with 34 in 2015 and a whopping 101 in 2016.
Mark Potok, SPLC's senior fellow for the Intelligence Report, said the jump in anti-Muslim hate groups was unsurprising after the mass shooting at a gay night club in Orlando, Florida, and the Islamophobic rhetoric of President Donald Trump during the 2016 election.
"[T]hat explosion was not unexpected," Potok wrote in the report. "Anti-Muslim hate has been expanding rapidly for more than two years now, driven by radical Islamist attacks including the June mass murder of 49 people at an Orlando, Florida, gay nightclub, the unrelenting propaganda of a growing circle of well-paid ideologues and the incendiary rhetoric of Trump — his threats to ban Muslim immigration, mandate a registry of Muslims in America and more."
Potok added that the rise of anti-Muslim hate groups have lead to grave consequences in the past year. He mentioned the three white militia members, who called themselves "the Crusaders," who were arrested for plotting to mass murder a Somali Muslim community in Kansas.
"The Muslim-bashing had consequences," Potok said. "Last October, three members of a militia-like group called the Crusaders were arrested and charged with plotting to blow up an apartment complex in Kansas where 120 Somali Muslim immigrants live. The attack was reportedly set for Nov. 9, the day after Election Day."